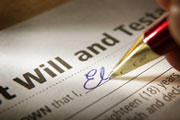 Family heirlooms - How to avoid disappointing the beneficiaries

In the first of a series of articles which look at best practice tips we will consider how clients gift their personal belongs (chattels) in their Wills. We will also look at how some lawyers balance the need to ensure nothing is accidentally left to chance with making sure the administration of an estate will be financially practical. In later articles we will review a number of common problems relating to Will preparation including the usual suspects of testamentary capacity, undue influence and simple administrative errors.

Chattels - Most people think of chattels as the contents of their home and the definition provided by the Administration of Estates Act 1925 certainly includes nearly anything you would expect to find in the normal persons home (including any horse or carriages that a client might have!). Problems can arise when people are co-habiting or keep business property at home but this is not the biggest source of contention between executors and beneficiaries. Often people have items that they would want the family to keep for future generations, or they collect and/or own something of intrinsic monetary value. Unless specific provision is made to deal with these types of situations you are going to have to rely on your executors to carry out your wishes without necessarily giving them a proper "roadmap" of where your personal belongings should go.

Will clauses - In a straightforward case when making an absolute gift to an individual there is usually no problem. However, if a testator feels that a dispute may arise or there are several beneficiaries who need to be considered, then it may be more appropriate for a specially drafted clause to be included in a Will. If you are confident that your Executors are capable and reliable one possibility would be to have a clause that leaves your personal goods on trust to the Executors to distribute them as equally as possible. Where matters are less straightforward or there are concerns that the Executors might have trouble dividing personal goods between the beneficiaries then it is possible to create detailed schemes for how assets are divided. An example of a very simple scheme would be to let the beneficiaries choose items themselves so you could stipulate that the eldest chooses one item first and then each takes it in turns.

Letter of wishes - From the lawyer's point of view the certainty that a well drafted Will provides when dealing with how an estate is divided is a key objective. Having said this it is not always the best idea to try and cover every eventuality in a Will. The expense of preparing and keeping up to date a Will that spells out who is to inherit every kitchen utensil and gardening tool can be enormous. The initial cost of the Will is likely to be significantly higher and every time a gift is changed a codicil will be required to bring this into effect. If the Executors can be relied upon to be willing and able to carry out the Testators wishes then it is much easier for a client to prepare a note of wishes. This note can be signed and dated by the client and kept with the original Will. Notes of Wishes have the great benefit that the client can change them anytime at no expense. If the client includes a brief explanation about their wishes this can also be useful in helping the Executors and Beneficiaries understand why certain gifts were made.

Valuations - If a client is a collector of fine art, stamps, antiques, vintage cars or other items that might require specialist attention it is important to discuss this when the Will is being drafted. So for example if a car has a personalised number plate should the Executors sell this with the car or should they find a specialist market? The client with a specialised plate is likely to know that the DVLA holds auctions for specialised plates and they can sell for up to £15,000 or more.
The Last Word
Each client's specific needs are different but when it comes to gifting property that has sentimental or personal value. Being able to ask the right questions will help to identify these needs. Helping a client to understand the options about gifting their belongings may save costs and ultimately ensure that their beneficiaries are not disappointed.