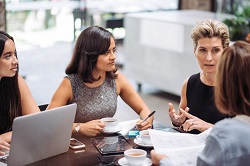 Credibility, the quality of being trusted and believed in. One of the most valuable and buildable assets that all Assistants must treat as pivotal to their professional success.
While it is essential to embark on your own journey of continuous professional development, it is important to remember one thing; credibility cannot be learnt in a classroom or over night. Credibility in the workplace is an essential professional asset developed and utilised by the most successful people in the office. Combining a strong set of hard skills with a robust set of soft skills, your level of credibility ultimately defines you as either simply proficient or as a bona fide A-game Assistant. 
Your level of credibility is important in every aspect of your professional life and can be the difference between advancing in your career or not. So how do you develop your credibility and how long will it take? Think of it as the best friend of trust. Trust takes times and consistency to develop yet once achieved, it allows your team and boss to work alongside you easier, more efficiently and banishes the need for micromanagement. In short, trust and credibility are the main factors in the positive development of your relationships at work and the influence you have on your boss and team.
There are many ways to develop your credibility but to start with, sink your teeth into our top 7 tips to focus your energy and steadily build this invaluable skill as an Assistant. 
Consistency
Without consistency from Assistants, Executives around the world would be left bloodied and bruised on the office floor. You need to be consistent in everything you do, it is as simple as that. The ability to establish routines and habits can contribute towards more than just longevity in the role and will be a key contributor to the growth of your credibility.
Keep it even. Practice consistency across three core areas – your thoughts, your communication and your behaviour. Decide you who are, what you want to achieve and align your current and future identity with a consistent message across all three areas. Full alignment with who you are, how you act and what you represent will naturally build your credibility. Ultimately, it can only happen only when everything is consistent, from the inside out.
Sincerity
Being credible requires sincerity. This doesn't mean that you say everything you think but you mean everything that you say. However much you want to, you cannot 'decide' that you are sincere, it has to be demonstrated to yourself and others through patient commitment over a period of time.
Sincerity embodies everything that Assistants should already have – a relentless and genuine nature. You need to stand by what you say with unmovable confidence to instil a culture of trust between you and your colleagues/boss. Focus on being true to yourself while remaining professional. As your sincerity increases, so does your credibility in the office.
Accountability
If you make a mistake, own it. As an Assistant it can be especially uncomfortable and daunting when owning up to something going wrong but to establish credibility you must hold yourself accountable for your decisions and actions.
In classic PA style, always ensure you have a backup plan in place to counter any catastrophes. If you get seriously overwhelmed, know that it's ok to ask for help whether that's from your colleagues, your boss or your own external Assistant network.   
Loyalty 
Loyalty is the backbone of any good relationship between the boss and their Assistant. Showing that you have someone's best interests at heart will speak for itself, and guess what? That's your job!
The relationship between boss and Assistant is one of the strongest in the office, you know every single aspect of their life and you're the person who has their back regardless of the situation. Demonstrating your dedication to your job and to them as an individual will not only build your personal credibility in the office, but also strengthen the relationship you have between each other. 
Honesty
While building credibility takes sincerity, you must also be honest. As mentioned previously, you don't need to communicate on everything but you do need to mean everything you say.
Transparency throughout all conversations should never be underestimated. As an Assistant, it is your job to refocus any misdirected energy or to give your guidance on current topics within the business. A huge part of building credibility is developing a reputation for speaking openly and honestly when you feel able to.
Don't be scared, embrace the ability you have to influence senior leaders within the business and prove that you are so much more the diary management and board packs!
Article written by Jessica Gardiner from The Assistant Room
Created by ex Executive Assistant Jessica Gardiner, The Assistant Room is an online global platform dedicated to improving the lives of Personal and Executive Assistants through the power of personal connections.
We act as a big sister providing unbiased, in depth support to professionals at all stages to focus on their skills, build their networks and take their career to the next level. Whether you are a team assistant to five Directors, a PA to the board or you look after a jet setting celebrity, we are here to help you achieve great things!