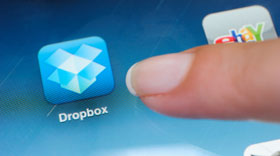 I have written before about various options for keeping your data backed up for the dreaded moment when disaster strikes or your computer fails beyond repair. Realising that you have lost your important documents, or having the tech team at the local computer store say that you should have backed up your data before bringing your computer in for repair, is not a good feeling.

For this reason I would like to introduce you, our Members, to a service called Dropbox. Not only will it automatically back up your data without you having to do a thing, but it also allows you to keep files synchronised across multiple machines. This means your desktop, laptop, iPad or tablet, and even your phone can all have the same files on them. If you edit a document on your laptop and save it, it will synchronise with your desktop at home, and you can continue working on it there.

All you need is a Dropbox account, which is free for the first 2GB. You can get one at http://www.dropbox.com. Simply create your account and download the software. Once it is installed, you will have a new folder called 'My Dropbox' in your My Documents folder on Windows XP (or just 'Dropbox' in your user or home folder on Windows 7 or Apple OSX, respectively). You can also get versions for Android and iOS based phones and tablets.

Simply move any documents you want to keep safe into this folder, and they will stay synchronised with your account on Dropbox.com. You can create documents and then save things to your Dropbox folder the same way you would save any other kind of file.

It doesn't stop there: you can also share subfolders in your Dropbox account with friends who also have Dropbox, by right-clicking and choosing Dropbox>Share Folder... in the menu that appears. Another great feature which is available on paid accounts is the ability to undo deletes. If you accidentally delete a file, which we all do at one time or another, you can log in to the Dropbox website and choose to undo the deletion of any recently deleted files.

If you are familiar with Dropbox and have any other user tips, feel free to leave them in the comments section.