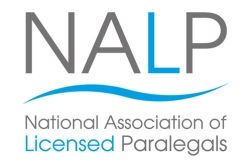 The National Association of Licensed Paralegals (NALP) is happy to announce that it is offering ILSPA Legal Secretaries Diploma graduates a 10% discount on enrolments for their Level 4 Diploma in Paralegal Studies.
ILSPA's Legal Secretaries Diploma course provides Students with a great significant foundation in law and legal procedures. It is a great starting point for a successful legal career, and with the right training, you can go on to work as a Paralegal.
Paralegals perform substantive legal work that requires extensive knowledge of law and legal procedures. They can work for Solicitors or they may work within a legal environment within commerce, industry or the public sector. Paralegals can also offer legal services directly to their own clients after gaining a Licence to Practise through NALP.
Within the legal profession, Solicitors rely on their unadmitted support staff and could not operate effectively without them. Paralegals are important members of the legal team, playing a key role in the legal process. The work that Paralegals undertake is quite often virtually indistinguishable from that undertaken by the Solicitors who employ them.
NALP's Level 4 Diploma is a nationally recognised Paralegal Qualification that includes 10 units of study. It is a natural progression from ILSPA's Legal Secretaries Diploma, and some of the content of the Level 4 will be familiar to you.
The units of study are:
The English Legal System
Contract Law
Law of Tort
Criminal Law
Wills, Intestacy and Family Provision
Civil Litigation
Criminal Practice
Matrimonial and Civil Partnerships
Conveyancing
Succession
The syllabus is far more detailed than ILSPA's Diploma, as it is a Level 4 course and the method of assessment is different. Students are required to complete and pass one assignment per unit to gain the Level 4 Diploma in Paralegal Studies. These assignments are usually scenario-based, so you are presented with a set of facts or scenario and then asked questions based on the facts of the situation.
You can read all about the course here:
https://www.nalptraining.co.uk/diploma-in-paralegal-studies-level-4
The total cost for ILSPA Graduates is £1,242 (usually £1,380), payable in one go or by interest free instalments (£242 deposit + 1 instalment of £125 and then 5 x £175) .
If you are interested, please email admin@nationalparalegals.co.uk or call 0845 862 7000.