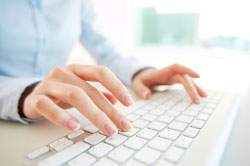 Case management systems are designed to monitor the life cycle of a case in order to manage the workflow of everybody dealing with the case. This makes the most effective use of everyone's time. There are lots of different systems available to perform this task, but they all have a lot in common when it comes to the features on offer.
Different systems have different types of law firms in mind. There are software systems, which are specifically programmed for small law firms that have only a few cases on the go at any one time, and there are other systems for larger law firms handling many cases at once. There are also some systems which are designed to cater for specialisms and niches within the legal profession, such as medical law or intellectual property law.
If you use a case management system, you will be able to upload all of the documents which are relevant to a case so that everybody working on that case will all have central access to the most up-to-date version of a document. Internal deadlines can be set and alerts created to make sure that everyone working on the case is moving along at the same pace. This means that even if you do not have direct contact with someone else who is dealing with a particular issue, you will be able to monitor that person's progress.
There are also direct communication channels which are part of the case itself, so you can review e-mails and messages exchanged which relate to that particular case without necessarily having to trawl through your general inbox to find them. This is the first of many crucial time-saving features which streamline everyone's workflow and make everyone working on the case more productive and efficient. This means that ultimately cases can be turned around in a shorter period of time, allowing the law firm to accept more cases than ever.
Case management systems usually have a fully integrated diary to remind you of all appointments, meetings and external deadlines whilst you are working on a case. Documents can also be produced and reproduced at the single click of a button, as they are generated from all of the information which has already been entered into the system. This saves administrative support staff and Legal Secretaries a huge amount of time in drawing up the necessary documents, freeing up time for other more important tasks. 
The crucial difference between case management systems and any other office management software is the provisions put in place to manage workload. All case management systems have a degree of flexibility when it comes to choosing how much control you would like to have over the programming of your workload, but you can have an almost fully automated system which helps to take care of simple administrative tasks, freeing you up to spend more time on the more interactive issues. This workload management feature also takes care of prioritising work for you according to the deadlines which have been entered into the system to help you adhere to time frames.
It also comes in handy when billing clients, as you can set up your case management system to log the exact amount of time a lawyer spends working on each task. This means that lawyers can more accurately charge customers for their time and prove that not a moment of that time has been wasted.
Case management systems are essentially a way of taking off the pressure when handling heavy caseloads. They remove the need to carefully plan and outline timetables and priority lists. Instead, you can let the system take care of the scheduling and basic administration tasks, leaving you with much more time to manage the rest of it.