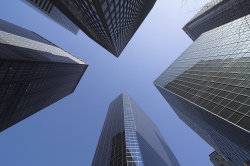 As new developments in artificial intelligence and automation continue to influence modern life, one thing is for certain: no industry will be immune to change – not even the legal profession, a sector historically known for its reluctance to move in line with the times.
Today, a technological revolution has come knocking on the door of this prestigious profession, promising cost-efficiency, enhanced productivity and client satisfaction. Lawyers know they must respond, but they aren't wrong in recognising that the integration of cognitive computing will change the face of the sector forever.
Where professionals in the legal sector could once lean entirely on their knowledge and experience of the law, today's law graduates must prepare themselves for a brave new world.
Tech-savvy
Increasingly, law firms are taking advantage of technological advancements in AI and predictive analytics to help automate routine work and allow talented teams to focus on client needs. With this in mind, a deep awareness and understanding of the relationship between technology and the law will soon become table stakes for future lawyers in all practice areas. On the other hand, those with proven ability and passion for using technology to innovate service delivery will be in high demand.
Of course, one mention of AI is still enough to set the fear in many law firms today: after all, it's no secret that this technology will soon encroach on the jobs of junior lawyers and legal assistants. Rather than resisting this change, however, new lawyers must be ready to let it help them in delivering an impeccable service to their clients.
While early adopters have capitalised on AI to improve firm-wide efficiency, the truth is that this technology is still very much in its infancy: keeping a finger firmly on the pulse of new developments will enable future lawyers to drive the profession in the right direction.
Commercially aware
Despite the reputation of the profession, a law firm is first and foremost a business. Therefore, an understanding of how the business runs and its key drivers will be critical for candidates seeking to secure a role in the law firm of the future.
Inspired by the raft of new legal practices run by executives as opposed to senior partners, traditional firms are expected to evolve in order to meet client demands for a cost-effective service that does not compromise on quality. Already, a growing number of firms are beginning to recognise the opportunity in moving away from the outdated partnership model to become commercially-focused corporate entities.
Further to theoretical knowledge, therefore, legal employers will increasingly place importance on a candidate's business acumen; they will expect lawyers to come equipped with commercial awareness as well as core legal subjects.
Adaptable
The legal industry is in a state of flux. Today, budding lawyers are expected to enter the profession and hit the ground running with whatever tools or technologies they have at their disposal. As if the nature of the work itself did not already demand a high level of adaptability, the lawyers of the future must anticipate change around every corner – be it technological, commercial or situational.
In this constantly shifting legal landscape, versatility has become paramount to the success of a law firm and the lawyers who drive it forward: ultimately, the ability to embrace change and quickly adapt to new climates will be an invaluable attribute for new graduates entering the profession.
Written by Patrick McMahon, Heat Recruitment