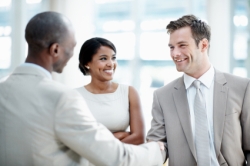 This month we will consider a recent publication by the Legal Ombudsman about client care1 and note what lessons might be learnt. The leaflet contains many general points about client care, but in particular it focuses on vulnerable clients such as the elderly and issues they might have. This is a subject that those who have completed the Wills, Probate and Administration unit of the Legal Secretaries Diploma course will be familiar with.
At the heart of good client care for Lawyers is making sure that clients understand what work you are going to do for them and how much it will cost. This could apply to any advisory service but Lawyers have to take particular care, as they have a significant amount of influence over their clients. This duty of care is backed up by the Solicitors Code of Conduct 20112 which is already on its seventh edition. The Code has 10 mandatory principles which ensure Solicitors behave professionally, with integrity and in a client's best interests. These rules directly affect Solicitors, but if you are working in a firm, you will be expected to act to the same high standard.
Client care when taking instructions – A Lawyer's role is to help a client get the result they want. The problem can be that the client does not actually know what they want or they are not aware of the options they may have. Some clients will be very clear about what they want – such as the civil client suing for a breach of contract. They will want to know if they can win their case, how much they are entitled to and what it may cost them in fees. Equally, the conveyancing client simply wants to buy or sell a property. On the other hand, a wills client may phone asking for a will but this is not just a matter of signing the papers – they not only need to be absolutely clear about what they want to happen with their house, possessions and finances; they might also need financial advice or a power of attorney. If you are working in any legal field, it is of assistance if you have some idea about what services your firm provides. With the first two clients mentioned above, the litigation and conveyancing clients, have they considered making a will? Are they even aware that this is a service your firm can provide?
Client care, how clients choose their Lawyer and costs – There are lots of ways clients choose a Lawyer, ranging from personal recommendations to checking the phone book or online.3 If a client's main concern is the cost, then they may want a quote over the phone. This is possible with some kinds of legal work such as straightforward domestic conveyancing, but you would not be expected to explain potential costs in detail. You should find out if the department you are working in has a standard charging structure and be ready to provide this information to a client. The reality is that there are many different ways of charging for legal services, and often to give a realistic estimate, the Lawyer needs to get more information from the client. Be prepared to explain this to a potential client and try to find out how the particular department you are working in provides cost estimates. It is always helpful to know how your firm charges even if you are not expected to provide clients with this information.
With respect to costs, many firms will not give a quote but will instead provide an estimate of the amount of work that needs to be done and costs involved. Legal estimates are becoming more important, as they have to be realistic and provide a proper 'ballpark' figure of the final bill. Lawyers are expected to keep clients updated about costs throughout a case, and this is something you can help with by becoming familiar with your firm's electronic billing system. Different forms of funding agreements have been covered on both the Legal Secretaries Diploma course and in previous Journal articles. The bottom line is that lawyers have many different ways of charging and their charging method may also vary according to the service provided. For example, they may offer a fixed fee for writing a will but an hourly rate for a probate service (the administration of a will when someone has died). It is not unreasonable for a client to ask you a general question on the method your department uses to charge, so you should be ready to tell them, even if you are not in a position to explain it in detail.
Client care and complaints – Even when you have done what you think a client wanted at a price that has been agreed, they may still complain. Every firm has an internal complaints procedure, and you should always direct a client towards this in the first instance. The vast majority of complaints arise from the parties misunderstanding each other, and provided both are willing to stay calm and be reasonable, problems can often be settled internally. If it is necessary for an external complaints body to be involved, then this is something that the firm's complaints partner will deal with; your role is to keep clear records of everything that has been said or done.
As you may have seen, most of the points raised above are really just common sense. Clients of law firms obviously have high expectations about the levels of service they should receive. As a well-trained member of a legal firm, you play an important role in maintaining standards of client care. By taking an interest in the services your firm provides and learning about how they supply them, you are proving your value to both the firm and its clients.
1. Using a lawyer as you get older.
2. See the Solicitors Regulation Authority handbook 7th Ed.
3. The Law Society has a find-a-lawyer search tool on their website.