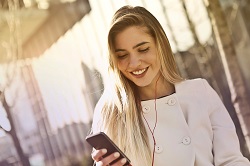 Podcasts are a fantastic resource and so easy to listen to during your everyday life. Here are some of the best podcasts for Legal Secretaries and PAs:
Each episode presents Jess Gardiner, founder of The Assistant Room, talking to a different professional about their work, their career and their success stories in the PA sector. Starting life as an article feature on the site called 'The PA Diaries', this podcast is great for ambitious PAs. Not only is it inspiring and enjoyable, but it is also full of useful advice and tips.
Law Pod UK covers developments across all aspects of civil and public law in the UK. Although hosted by Lawyers, it is a fantastic podcast for anyone with an interest in law. It will help Legal Secretaries and PAs stay up to date with news and legal updates.
The Admin Allies describes itself as a place where like-minded admin professionals can turn to for advice, suggestions and to share experiences. This is a light-hearted listen that is helpful to all people working in the admin or business support sector.
Oriel Partners is a boutique PA and administrative recruitment consultancy based in Central London. Their founders, Auria Heanley and Olivia Coughtrie, have more than 30 years of combined experience. Part of the reason for launching the business was to inspire others, and to this end they have also launched the Oriel Partners PA podcast. Olivia has interviewed several successful PAs across a variety of industry sectors. The guests provide current industry knowledge, explain how they got to where they are today, and discuss the skills required to be successful in their roles.
7 Minute Job Interview Podcast
This is a great podcast for ILSPA graduates. This podcast is aimed at people who are finishing their studies and are now looking for work. The host provides job interview tips, CV tips, career advice and LinkedIn training for students, recent graduates and young professionals.
This is a useful podcast to keep an eye on what apps and technology are coming out that may be useful within law firms. The hosts base episodes on recent releases, new technology and current events. For example, one of their recent episodes was titled 'Bear and Boundaries and Conference Calls – Working Remotely from Home with Kids'. 
City Conversations – The Law Society
The Law Society has created this series of podcasts for people working in the city. Each month they discuss the latest hot topics affecting legal professionals working in London. This is another great podcast for Legal Secretaries and PAs who have an interest in expanding their legal knowledge and keeping up to date with changes or challenges in the sector.
This is a good one for the commute as the episodes are short and to the point. The Confident Admin podcast talks about everything from networking as an admin professional, to nice fragrances in the office.
Podcasts are good because you can pick and choose which episodes you want to listen to and come back to listen to them as and when you need to. You can also find the above podcasts on all the main podcast platforms including Apple Podcast and Spotify.