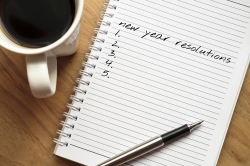 With the heralding of the New Year, many of us will start to consider the fresh start this brings. Once the excitement of the holidays has eased off, some of us may find it difficult to readjust back into work life. This article aims to help guide you through the first week back at work and make the transition as smooth as possible by applying some useful organisational tips and maintaining your New Year's enthusiasm. 
Maintain your tranquillity
Hopefully the holidays have left you feeling rested. By maintaining this feeling of calm as you transition back into the office, you will set yourself up to succeed in this first week back. If you work through the suggestions below with a feeling of calm, you are more likely to have a productive and enjoyable first week back.
Prioritise 
The most important thing to focus on during your first morning back is prioritisation. Work through any emails you have received during your break and flag them in order of importance. You will then be able to work through the most urgent on your first day and organise the rest around your other commitments.
Organise
As the saying goes, "Tidy house, tidy mind", and the same applies for your work space. Clutter in our work spaces can make us feel overwhelmed, so clear away those old Christmas cards, organise your in-tray, and make everything clean and tidy so that you can start your year as you mean to go on. 
Get rid of distractions 
It can be tempting to keep one foot in the holiday spirit, but it's time to turn off your phone and close those social media tabs. Make it as easy as possible to be productive and efficient by removing obvious distractions. 
Make a to-do list
A to-do list is a fantastic tool all year round, but it can be invaluable in the first week back after a break. By making a manageable list for each day, you will avoid becoming overwhelmed and also be able to track your progress as you tick off tasks. 
Review your calendar
Take a look at what is coming up in the next couple of weeks. By reviewing any priorities in advance, you can be sure to be on top of anything that comes around and maintain your relaxed attitude in the coming weeks.
Take your breaks and leave on time
When our workload is high, it can be tempting to work through our breaks in order to get on top of it, but when we miss our breaks or eat at our desks while we work, our productivity will naturally fall. If you are able to, why not take a short walk during your break and get some of that bracing January air in your lungs? You will come back feeling refreshed and ready to work with renewed enthusiasm. In the same vein staying late at work can also be counterproductive. Leave on time, and you are more likely to be rested and ready for the next work day.
Make some fun plans
Be sure to treat yourself to a lunch out or dinner reservations at the end of the first week. Having something on your calendar to look forward to can really motivate you through the trickier parts of the week. Reward yourself for a productive first week back at work.