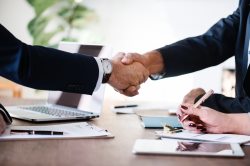 A common question that you should always be prepared to answer at a job interview is: "What can you bring to this role?" Interviewers like this question because it gives them an insight into what you know about the role, what skills you feel are important in the role and also what skills you have that make you a good fit for it.
"What can you bring to this role?" is actually a really positive question to be asked as an interviewee. It sets you up perfectly to boast your relevant skills, experience and how they will help you in the job you are interviewing for. It's also a good opportunity to explain what you have to offer, that other applicants can't. Despite this it can be a question that some candidates dread and are unsure about answering.
We spoke to our Trusted Partner, Simply Law Jobs and asked for their advice on how to answer this particular question. Here's what they said:   
This is a common interview question that you will be expected to answer well. Taking time to prepare so you are able to deliver a great answer could be the key to your dream job.
You should have an idea of your unique skill set and how the role would benefit from your knowledge and expertise.
How to prepare your answer to 'What can you bring to the role?'
Research
Start your preparation well in advance. You should always make sure you research a company and find out about their ethos, goals and current projects when preparing for an interview. Showing an interviewer that you have taken the time to find out about the organisation prior to the interview makes a great impression, will make it easier for you to ask relevant questions yourself, but most importantly in this situation it will help you answer the question 'What can you bring to the role?'
The best place to begin your research is to look at the job description and the company's website. Pick out the most important skills or experience listed on the job description, then see if you can find the company's values on their website to give yourself a better idea of the type of person they are looking for.
Once you have this information, cross-reference it with your own skills and experience as well as your personal values. This will help you to form the foundations for your answer.
Give examples
To give a convincing answer you will need to include examples. Being vague about how you have the required skills will not be enough – you must demonstrate that you are capable enough for the job by describing a time you had to put them into practice.
Have back-ups
It is recommended that you prepare at least three key attributes that will demonstrate what you can bring to the role in question. Each of these should be central to the job, and you should prepare examples to present with them. You should only need to talk about one or two of these attributes, but it's always good to have a couple of extras up your sleeve, just in case they want more.
Practice
And finally, make sure that you practice the answers you have prepared. Say them out loud a few times, make sure you are comfortable with the explanations and examples so that they come across as confident and natural.
Taking notes with you to an interview is fine but be careful it doesn't create robotic answers. If possible try to memorise your answers, as relaying your responses back in this natural manner shows you have good communication skills. Simply have a few bullet points as notes that you can fall back on if need be.
Some examples to help you prepare some great answers:
These examples aim to show you how we would put the above advice into practise. They also give you an idea of how long you might want your answer to be. They are detailed, yet concise.
The ability to deal with time pressure and meeting deadlines
"Due to my previous experience in a similar role at X, I know that this role will involve meeting tight deadlines. I developed the ability to do this in my last job and am comfortable working on several projects simultaneously while still meeting deadlines.
For example, I needed to ensure that I didn't fall behind on my administrative duties even when we had a particularly busy period meeting clients. Efficiently recording the work that had been completed was central to the organisation of the whole team. In order to make this process more efficient, I would make brief notes during the day which sped up the admin tasks considerably and made sure I met deadlines."
Why we like this answer: This candidate has identified a key attribute from their own experience. This is likely to convince interviewers that they know what they're talking about and are aware of the challenges they will face in the role. The extra detail as to how they were proactive in getting organised reinforces this.
Teamwork
"I can see from the job description that this role will require a lot of teamwork. I love being part of a team and I think that my communication skills add a lot of value here. During my work for X, I was working with offices in different parts of the world. This meant that communication was essential when working on projects together. I set up weekly meetings via Skype, which had a set agenda so we could make sure that everybody was on the same page in an efficient way. This extra communication added to the team dynamic, despite us working in different offices in different parts of the world."
Why we like this example: This candidate has explained exactly what it is that makes them such an effective team player. Communication skills are required in almost any job so this is a great example to go for. The example they have chosen demonstrates that they understand the essentials of good teamwork.
Advice provided by ILSPA's Trusted Partner Simply Law Jobs.
At Simply Law Jobs, we specialise in advertising thousands of the latest job vacancies across all levels of the legal sector. We are the UK's leading legal niche job board, providing businesses with a cost-effective and efficient alternative to generic job sites. Job seekers are at the core of what we do, so we offer candidates a site tailored entirely to their industry. Our promise is simple, we ensure quality over quantity and provide the very best approach to candidate targeting, delivering an outstanding return on investment.