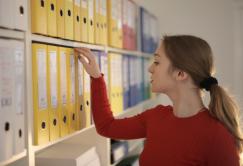 As an administrative professional, you understand just how much structure and organisation come into play on a daily basis. You probably have multiple systems and procedures that allow you to create order and inspire productivity. But with so many people and processes to manage, even the best of us can get overwhelmed when we look at our files, binders and calendars.
One of the easiest ways to add structure and organisation to your workspace, files and more is to use colour-coding. According to research by neuroscientists, our brains are hard-wired to process colour before virtually anything else, improving comprehension and helping us process information more quickly, as well as retaining it longer.
Colour-coding typically applies more to paper files than digital files. However, many programs and task management tools allow you to add category colours so you can carry them over to your digital file management. And there are third-party software addons for Windows that let you add colour to your digital folders, too.
Developing Your Colour Code
When creating a colour code, I start by evaluating the environment I'm working in.
Are there colours already associated with specific categories of work, departments or projects? If so, then try to incorporate that into your colour code to reduce confusion for you and those you work with.
What are your categories of work or types of projects? For example, when I worked corporately, I had a separate colour assigned to each executive I supported, and different colours for my admin projects, legal contracts, business development projects, operations files, etc. Sometimes I had a separate colour for each major project if there were a lot of them going on at the same time.
Depending on how many colours and categories you create, it may be helpful for you (and those you support) to create a colour-code key. That way everyone knows the system, and you have a better chance of maintaining it.
Tools for Colour Coding
There are dozens of fantastic options available to help you implement your colour code – everything from files to labels to binders and more! Some of my favourite tools include:
If you don't have the budget or approval to use coloured file folders, you can still use colour on your labels or apply coloured stickers to make them more visual. Colour can make a world of difference in quickly finding things or identifying when something is misplaced.
Implementing Your Colour Code
Once you have the tools you need, you can transition files into their appropriate file colour and get them labelled. Teach those you work with how to use the new system so they understand how it works and why it's important. As you use your system, you'll identify ways you need to fine-tune it or add to it as you go.
Applying Colour Codes to Calendars, Tasks and Email
I mentioned colour-coding your paper files and coordinating them with your digital systems. This is one way I do that with Outlook Tasks, Calendar and Categories.
In Microsoft Outlook, you can set up categories and associate a colour with each one. Then you can use this to colour-code tasks, emails and calendar appointments.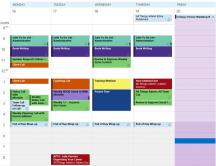 This is my standard colour code:
Red – speaking engagements
Orange – clients or vendors
Yellow – training
Bright green – team related
Standard green – finance/accounting
Blue – business development
Teal – administrative
Purple – article/book writing
At a glance, I can quickly see (even if I can't read all of the details) how many speaking engagements, client calls and team meetings I have each week because of the colours I use on my calendar.
Our Teamwork project management tool allows us to colour-code projects and events we have on the calendar, too. So no matter where I look, red means it's speaking related, yellow is for training, green is for team meetings, and so on.
We all want to be more organised. Colour-coding allows us to find what we need faster and easily identify where everything belongs. It makes planning easier, since we can see at a glance what categories demand our time. And when the rest of the team gets on board too, it makes the entire office run more smoothly by keeping everyone on the same colour-coded page!
Some of the links featured in our emails and blog posts are sponsored links and All Things Admin may receive compensation for them. We only recommend products and resources that we use in our professional lives and in building our business. We hope you will find them beneficial, too.
Julie Perrine, CAP-OM, is the founder and CEO of All Things Admin, providing training, mentoring and resources for administrative professionals worldwide. Julie applies her administrative expertise and passion for lifelong learning to serving as an enthusiastic mentor, speaker and author who educates admins around the world on how to be more effective every day. Learn more about Julie's books — The Innovative Admin: Unleash the Power of Innovation in Your Administrative Career, The Organized Admin: Leverage Your Unique Organizing Style to Create Systems, Reduce Overwhelm, and Increase Productivity, and Become a Procedures Pro: The Admin's Guide to Developing Effective Office Systems and Procedures.