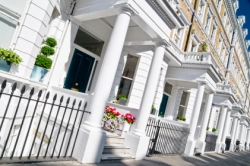 This month we are considering a form of land ownership, leasehold, that has been described as a "murky corner of residential property", and perhaps more worryingly if you own one, "a national scandal which dwarfs PPI". With recent stories about homeowners having ground rents that double every 10 years and an all-party Parliamentary Group reporting on reforms in April 2017, even stronger language has been used by MPs describing leasehold houses as a "national con". 
What are key features of freehold and leasehold titles?
•    Someone who owns a property outright, including the land it is built on, is a freeholder.
•    Most houses are freehold but some might be leasehold – usually through shared-ownership schemes.
•    With leasehold, the person owns the property for the length of their lease agreement with the freeholder.
•    Leaseholders have to pay their freeholders ground rent and other fees in order to make changes to their homes.
•    When the lease ends, ownership returns to the freeholder unless the person can extend the lease.
•    Some wish to buy their freeholds to save themselves these costs.
The recent problems with leasehold titles come from ground rents which were originally a nominal rent charged by the freeholder for the use of the land. During the downturn of 2008, house builders began discounting the price of leasehold properties on the basis that they could recoup their money by increasing the ground rents. If the increases in ground rent had been reasonable, then the current problem experienced by some 40,000 new leasehold houses sold with onerous ground rents would never have hit the headlines. 
Solicitor Mari Knowles described some leases on the BBC R4 programme "You and Yours" as "nothing more than a money-making mechanism." And that she believes that "there could be misrepresentation and unfair contract terms." This will no doubt lead to lengthy and expensive group actions against buyers' solicitors and developers. 
MP Andrew Selous mentioned sites in his constituency built by Galliford Try and Persimmon where leasehold houses were sold through the Help to Buy scheme. It is a "despicable" practice, he said. The Help to Buy scheme was developed to help the neediest onto the property ladder and it is now fuelling sharp leasehold practices by some house builders.
"I would like to see leasehold houses outlawed unless there is a damn good reason for them to be sold leasehold," Miss Joanne Darbyshire, an affected home buyer, told the meeting, to applause.
There is evidence that leasehold properties with high ground rent terms will be unsellable as mortgage lenders are refusing to lend against them. 
Sebastian O'Kelly, a trustee of the Leasehold Knowledge Partnership, provided a stark example of the effect doubling ground rent every 10 years would have on a 150-year lease where the ground rent starts at £300 per year. In the final 10 years of the lease the owner of the property would have to pay £4,915,200 a year in ground rent! With 1.8 million leaseholders in England and Wales there is a huge scope for potential miss-selling claims. 
As a final example of how seriously this issue is being taken consider recent steps by Taylor Wimpey, one of the house builders MPs singled out for drawing up these types of leases. The company has set aside £130 million and apologised to home buyers over the sharply rising fees. It is the first major builder to apologise after criticism for leaving customers with onerous leasehold deals. The company stated that it was "sorry for the unintended financial consequence and concern that they [the leases] are causing." With this being the first admission by a major builder that it was a mistake selling leasehold properties (and effectively selling new-build homes twice), it can only be hoped that other builders will stop unnecessarily selling new-build houses as leaseholds.