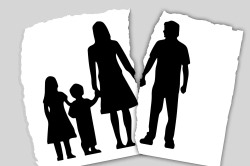 This month we are returning to the topic of no-fault divorce. When we last wrote about this, we examined the sad case of Mrs Tini Owens who was not given permission to divorce her husband despite it being an entirely loveless marriage.
In the Owens v Owens Supreme Court case from July 2018, the current failings of the system were highlighted. The Supreme Court ruled in July that the 68-year-old could not divorce her husband and escape her loveless marriage until a period of five years had elapsed. She and her husband, Hugh Owens, had been living separate lives since 2015. Mrs Owens will have to stay married to her husband until they had been separated for five years before she will be allowed to divorce him.
One of the issues in the case was that Mrs Owens was not able to prove that the relationship had "irretrievably broken down." Current divorce law requires people seeking divorce to give evidence of one or more of grounds for divorce; three are based on 'fault' and two are based instead on a period of separation. The five grounds are: adultery, behaviour, desertion, two years' separation (if the other spouse consents to the divorce) and five years' separation (otherwise). Using these grounds is how a party can prove that a marriage has irretrievably broken down, but ultimately one party will be accusing the other of being at fault. If the divorce is contested, and a spouse cannot prove 'fault', then couples have to wait five years before a divorce is granted.
Professor Liz Trinder of University of Exeter Law School published research in 2017 that showed in England and Wales, blame is apportioned in divorce around 10 times more than in any of the other countries she compared. Unreasonable behaviour was the most common reason for opposite-sex couples divorcing, with 52% of wives and 37% of husbands petitioning on these grounds. This was also the most common reason for same-sex couples divorcing. She described the effect of fault-based divorce as the cause of – "significant misery and costs."
Perhaps spurred on by cases like that of the Owens and the research by academics, Justice Secretary David Gauke started a consultation on 18 September 2018. The government is planning to introduce proposals for a less confrontational divorce process. Under current proposals, the "fault-based" divorce system would be replaced with one where the person seeking to divorce gives notice to the court of the intention to divorce. They would simply state their belief that there has been an "irretrievable breakdown" in the marriage. This would replace the giving of evidence about a party's conduct or separation.
It has also been proposed that the ability to contest a divorce as a general rule be abolished. This would be to stop parties contesting a divorce simply as a bargaining chip when negotiating over finances.
The consultation also seeks views on the minimum time frame for the process between the interim decree of divorce (decree nisi) and final decree of divorce (decree absolute). This will allow couples time to reflect on the decision to divorce and to reach agreement on arrangements for the future where divorce is inevitable.
The idea of ending the "blame game" in divorce is not new, and since at least the 1970s, attempts have been made to improve the law. Nigel Shepherd, a former chair of the family law organisation Resolution, said:
"Since 1996, there have been 1.7 million people who have assigned blame in the divorce process. Many didn't have to, and every day that goes by sees that number grow. The government appears to have heeded our calls to make our divorce system fit for the modern age, and we will continue to push for this much-needed, overdue reform to be implemented as soon as possible."
While the call for reform is strong, it is worth noting that London is known as the "divorce capital of the world". This is in part based on its innovative, speedy and generous approach to the division of finances on a divorce. Any changes will be welcome but the Government will no doubt be cautious when reforming the law to ensure that England and Wales retain their attraction as "divorce capitals".