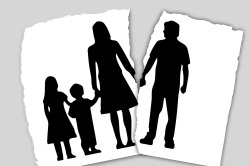 More than 110,000 divorce proceedings were begun in 2015, but soon the bulk of divorces may take place over mobile phones and computers. The Government has continued with the digitisation of various legal processes across England and Wales, and this includes divorce proceeding. HM Courts & Tribunals Service (HMCTS) piloted a scheme last year which enabled people to apply for a divorce online, print off the form and send it to court. In the first week HMCTS received 130 online applications. Susan Acland-Hood, HMCTS Chief Executive, said of the changes: "These measures are drastically cutting the number of applications returned because of errors – streamlining the process and ensuring we are best supporting people going through a difficult and often painful time."
The changes have the backing of Sir James Munby, President of the High Court's Family Division. He said in a recent speech to the Family Law Bar Association that the online divorce process was "a vision not of some distant future, but of what has to be ... When it has been done, we will at last have escaped from a court system … moored in the world of the late Mr Charles Dickens."
At present, in uncontested divorces, neither husband nor wife needs to go to court. The divorce can be pushed through by legal officials at a regional court centre, where a district judge supervises and rubber-stamps the papers. Under current rules, couples who agree to divorce because of adultery, unreasonable behaviour or desertion can do so in less than a year if there are no complications over money or children. Otherwise, they can divorce after two years' separation by agreement and after five years if one party opposes the petition.
Family campaigners have long argued that marriage has been devalued by making the divorce system too easy. The Marriage Foundation's Harry Benson said: "Marriage is a serious business … Divorce requires time, thought and deliberate intent, not speed, efficiency and the throwaway ease of an online form. It would be wrong to relegate divorce to little more than a tweet. It should be done as it begins, in person."
His view is not, perhaps, shared by the Government, judging by the online system reforms. As Sir James has pointed out, where a couple have agreed to divorce, there is no particular reason why there must be a paper application or the need to go to court. Couples who agree to divorce could simply answer an online questionnaire about their marital history, assets and income, and arrangements made for their children.
If the divorce process for couples who are not contesting the proceeding is made significantly faster, this may reduce levels of stress and allow the parties to move on. It may also have the added benefit that the courts will have additional time to hear more complicated cases, say, where there are child custody issues.
The online divorce pilot is part of the Government's £1 bn plans to modernise the justice system. For example, more than 3,000 fare dodgers have already been sentenced through a paperless operation at Lavender Hill Magistrates' Court in London. Transport for London no longer has to manually process and physically deliver case papers to the court. Instead, prosecution evidence is electronically transferred directly to the court. The cases are then considered by a magistrate and a legal adviser using a laptop. People can also submit tax appeals online, which has significantly cut the number of incomplete or inaccurate forms being returned. The plan for the first entirely digitised cases will be probate law and the process of approving Wills. Fully digitised divorce will then follow.
Although he was referring to the online divorce scheme, the views of Sir James about digital reforms to the system may reflect a wider acceptance by the judiciary that real change is around the corner. While acknowledging that "we still have a long way to go to the entirely digitised and paperless court", he believes this is "a vision not of some distant future but of what has to be, and I believe can be, achieved over the next four years". This is an ambitious timescale for this level of reform, but as Sir James pointed out, an all-computerised court system would be "unprecedented anywhere in the world", so it is difficult to judge if this is too optimistic a timescale.