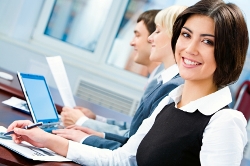 There is no denying that working as a Legal Secretary can prove to be an exceptionally exciting and rewarding career choice. If you are involved in dealing with litigation cases, you should find that no two days are ever the same. Even more important, those dreadful Monday morning blues will hopefully become a thing of the past when you actively look forward to turning up for your job at the start of a brand-new week. 
If this type of role particularly appeals to you, why not check the details of this article to find out exactly what the position entails? All the while, do bear in mind that The Institute of Legal Secretaries and PAs offer a Legal Secretaries Diploma which covers Civil Litigation and much more. We also provide specific Civil Litigation courses where you can specialise.
Understanding the Court System and the Litigation Process
To work as a Legal Secretary dealing with litigation cases, it is imperative for you to be equipped with a detailed knowledge of the court system and hierarchy in England and Wales. For example, as it is most probable you will be dealing with litigation in civil law proceedings, you are likely to predominately deal with the county courts. If a case involves litigation of a more serious nature or for a much higher value, you may well see the case escalated up to the High Court level. The Legal Secretaries Diploma covers all of these aspects for you and teaches you a lot of the legal terminology and knowledge you will need to know in order to carry out the role well.
Producing Legal Documentation and Completing Forms
A large part of the legal secretarial role is to produce high-quality documents and complete the forms relevant to a case. You would often be dictated or informed of the information and would then have to apply it. It is common practice to complete forms such as a Claim Form, a Request for Judgment and a Reply to Admission Form, and to type out documents such as the Particulars of Claim and Instructions to Counsel. All of these are covered in ILSPA's courses and help you to become skilled in this area.
Working on Case Recording Systems/Litigation Management Software
You will be made familiar with case recording systems and litigation management software when you commence any new role in a firm. Case management systems are designed to monitor the life cycle of a case in order to manage the workflow of everybody dealing with the case. This ensures the most effective use of everyone's time. You will be able to upload all of the documents which are relevant to a case so that everybody working on that case will have central access to the most up-to-date version of a document. Internal deadlines can be set and alerts created to make sure that everyone working on the case is moving along at the same pace. 
Liaising with Clients, Solicitors and Witnesses
Quite often, you will be required to communicate with the clients of the case, the other party's Solicitors and the witnesses who may help your firm win the case. This will involve a warm welcome when they come to your firm's office, polite and clear communication over the telephone, and professional correspondence via email or post. It is your job to ensure that everything goes smoothly and all the correct information is passed on to the relevant people.  
Attending Hearings and Taking Notes
You will come to find that there is a highly enjoyable and exciting side to working as a Legal Secretary in litigation cases: the opportunity to attend live court proceedings and take detailed notes. When attending court as a Legal Secretary, it is vitally important for you to make notes of the timings of hearings (for your firm to be able to invoice accordingly) and record how the case is progressing, with special attention being paid to the overall outcome (judgment). You will also need to be on hand for the Counsel who has been instructed to present the case on behalf of your client. Also, your firm's client will need to be well looked after and kept informed about how the case is progressing. It is necessary to build rapport with the client, put them at ease and make sure that they are aware of their Counsel and exactly what they will be doing for them in court on the day of their appearance.
Researching the Relevant Law
Although perhaps more the job of lawyers themselves, you may still be asked to research and check details of the relevant law pertaining to a case. Your firm will provide you with access to the main legal databases in England and Wales (e.g. LexisNexis, Westlaw). This is a highly valued legal skill that you will acquire as a Legal Secretary. You may also have access to the All England Law Reports, which are reference books containing reported cases and are widely used by lawyers. 
Other General Skills
A role in a litigation department would require the full repertoire of legal secretarial skills as well as the above. Legal Secretaries are a very important part of the legal profession. They help lawyers with their work and are an integral part of a team of legal professionals. ILSPA offers training and professional development through our courses and online resources.  
If you have been considering studying or are currently studying ILSPA's Legal Secretaries Diploma course, this article has hopefully gone some way towards revealing exactly what you could look forward to in such a role of employment.