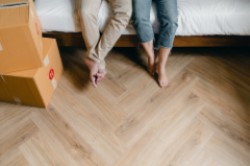 The COVID-19 pandemic has affected a lot of aspects of our lives, including buying houses. During the midst of the lockdown no viewings were taking place, causing stagnation in the housing market. As the rules have relaxed, people are now able to view properties they are interested in buying, but they must keep to the social distancing measures that have been put in place.
The government has advised house buyers to try to avoid viewing properties in person by doing it virtually where possible, but how does this balance with the legal risks of taking this approach?
The simple answer in terms of the legal risk of purchasing a property sold unseen is not to do it. Property viewings are the most basic form of due diligence that a buyer can do. Not only can they make sure the property "feels" right, but they are also trying to satisfy the contractual principle of caveat emptor (or buyer beware).
Here are five examples of potential issues that an informed buyer might spot when viewing a property. When you look at this list, consider whether you could spot them on a virtual viewing.