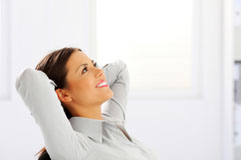 There is a great deal we can do to cope well in situations which we find (or expect to find) difficult.
To see how the brain works in this context, it is useful to have a close look at the cycle of emotional arousal. This shows how negative emotional arousal can generate unhelpful thoughts, which themselves fuel further negative emotions. Knowing how the cycle works then informs us as to how best to make changes in that situation and so improves the way we cope.
The Human Givens School of Psychology uses the APET model. This is what APET stands for:
A: Activating stimulus (e.g. being part of a meeting or even just imagining being in a meeting).