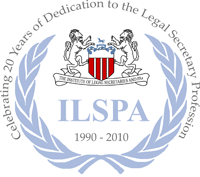 We celebrate our twentieth anniversary with pride, as we have become recognised as the leading organisation in our field. ILSPA not only offers accredited and recognised qualifications but also provides professional recognition for our Members and their ongoing development, together with support, advice and career guidance for trainee and experienced Legal Secretaries throughout the UK and overseas.
The Institute of Legal Secretaries and PAs was formed in 1990 by a group of like-minded legal professionals to promote the excellence and professional recognition of Legal Secretaries and PAs. We initially existed to assist legal practices with their main support staff functions by helping maintain and improve services to their clients through the expertise and diligence of a well-informed and commercially aware secretariat.
We have come a long way since 1990 and the role of the Legal Secretary has developed and changed considerably due to the advancement of technology and the requirement for Legal Secretaries to take on more responsibility. All successful practices value their Legal Secretaries and PAs highly, but many do not have a structured training or professional development programme. Over the years, the Institute has established recognised courses which enable people to gain the skills and formal qualifications that they need to be successful Legal Secretaries. These courses have been studied by thousands of Students throughout the UK, with varying levels of experience. Our Legal Secretaries Diploma course has become widely recognised in law firms and it is highly recommended. We are delighted that our course has been accredited by the National Association of Licensed Paralegals, which is recognised as an awarding organisation by Ofqual, the regulator of qualifications in England.
Many law firms throughout the UK provide ongoing support for their staff to be Members of the Institute. We are very pleased to see that Members who support themselves renew year after year. Our Continuing Professional Development Programme, together with the professional development articles provided in our journal, encourage you to advance your expertise and improve your skills. Belonging to a professional organisation demonstrates that you are a dedicated group of professionals in your own right, who make a vital contribution to the excellence of service provided by a firm.
In the past three years we have developed our services to provide the ILSPA Legal Secretary Jobs board and our online Legal Secretary journal. Our jobs board helps our Students and Members to secure employment, and it also provides a good service to the general public. Recruiters can benefit from a niche audience of Legal Secretaries who have the qualifications and experience they are looking for, whilst job seekers can apply for a wide range of Legal Secretary jobs and upload their CVs for employers to view.
Members of the Institute have premium access to the latest content on Dedicated – The Legal Secretary Journal online, which includes interesting and informative articles to help Members on legal issues, professional development, career advice, IT and technology. Our articles help Members to advance their knowledge and skills and be aware of the standards that are expected of Legal Secretaries and PAs.
The ILSPA team wanted to do something special for our twenty-year anniversary by contributing some of our revenue to a worthwhile charity. We have joined WWF, a fantastic organisation that believes in a future where people and nature thrive. WWF is known as the world's leading conservation body, and its members have seen first-hand how wildlife, the environment and human activity are all interlinked. Their passion for safeguarding the natural world is backed up by other environmental action, such as tackling the global threat of climate change and helping people to change the way they live to ease pressure on natural resources. The organisation has teams of highly skilled professionals working with governments, businesses and communities here in the UK and around the world. A portion of your Membership fees will help to support WWF, and we hope that our Members will join us in making a difference.
As always, we welcome any suggestions and comments you may have regarding your Membership and services you would like us to provide. We are here to help you in your careers and will continue to do so into the future. Thank you so much for your support and dedication.