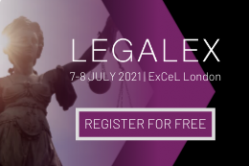 ILSPA has partnered up with LegalEx as it makes its much-anticipated return as a live event this year.
LegalEx 2021, taking place on July 7 & 8 at ExCeL London, is the must-attend event to meet industry thought leaders, regulators at the forefront of legislation and code of conduct changes, and experts in client success, technology and business development.
Your FREE registration gives you access to two days of educational seminars from some of the world's top legal experts, innovators and forward-thinking speakers. Criminal barrister and TV host Robert Rinder will be discussing why legal aid is in crisis and what we, the legal community, can do about it, while I. Stephanie Boyce, President of the Law Society, will be discussing diversity and inclusion within the legal sector and the role technology plays in terms of access to justice, digital engagement, mental health and the rule of law.
LegalEx also provides the perfect opportunity to upgrade your well-being practice by attending Neil Seligman's inspiring keynote delving into how meditation guided him to transform his career from Civil Law Barrister to Corporate Mindfulness Advocate. This talk will leave you with a suite of tools and practices to help better manage stress, improve well-being and inspire your mindfulness practice.
Legal Secretaries who attend the live event will also be able to learn more about programmes and software used within their day-to-day roles from a range of exhibitors such as Access Legal, Cloud Geeni, LEAP, LogMeIn and more. Many of these innovative tech providers will also be giving immersive seminars on key legal IT and legal services topics, meaning you can discover the very latest on strategies, practices and technology solutions for the legal sector all in one place.
If you want to keep your legal knowledge sharp and up to date, then LegalEx is the place to be, with free sessions from the Solicitors Regulation Authority. These talks will cover AML, SQE, regulations and more, with presentations titled "Safeguarding Client Money" and "Continuing Competence" equipping you with everything you need to maintain high standards at your firm.
Want to upgrade your soft skills? Then why not sign up for LegalEx's Heart Centred Business Masterclasses, led by a team who have worked with thousands of experts and professionals, with a track record of helping them increase their income by an extra £50,000-£100,000 within 12 months? Whether you want to get more clients or want more confidence when describing your expertise, join these Masterclasses to get the tools you need to immediately start getting more clients.
Concerned about safety after a year of being locked at home? Don't be – this year's LegalEx event has enhanced safety measures with improved cleaning and hygiene, social distancing measures, and protection and detection precautions to ensure all visitors are safe and concern free. LegalEx continue to liaise with the Government, the ExCeL and the Association of Event Organisers, who have the most up-to-date information regarding the prevention and spread of COVID-19, and strictly follow all guidance set out by them. Face coverings are compulsory, and guests will not be allowed to enter the venue unless they are wearing a face covering. At LegalEx, your safety is the number one priority.
So, what are you waiting for? Register for your FREE ticket now via legalex.co.uk.