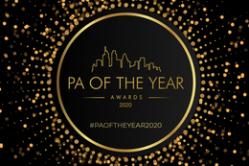 On Thursday 12 November 2020, SecsintheCity, the UK's only dedicated job site for business support professionals, hosted its annual PA of the Year Awards. Now in its ninth consecutive year, the Awards are an iconic celebration of the essential role that Personal Assistants, Executive Assistants and Office Managers provide to the companies and individuals they work for. 
Sarah EL-Doori, Marketing Director of Reach Work and PA of the Year Awards judge, explains that "the aim of the Awards is to champion the profession and acknowledge the significant contribution that PAs and EAs make, especially in these immensely challenging times." 
The Awards ceremony, which usually takes place at The Ivy in London, was held virtually, with finalists and their bosses fully embracing the event's traditional black-tie dress code. 
SecsintheCity received over 600 nominations by and on behalf of PAs and EAs, which judges whittled down to 20 finalists across three categories: PA of the Year, Legal PA of the Year and Office Manager of the Year, and an Outstanding Achievement Award. 
Susanna Tait, Chief Executive of event sponsor Tay Associates, commented, "We were impressed by the positivity, perseverance and professionalism shown by PAs, EAs and Office Managers from many different organisations." 
The winners of the PA of the Year Awards 2020 are: 
PA of the Year – Bethany Burns, PA to James Watt, Captain & Co-Founder of BrewDog plc 
The winner of this year's flagship award was Bethany Burns, Personal Assistant to the co-founder of Scottish brewery and bar chain BrewDog. 
Having had a hand in transforming the BrewDog distillery into an NHS sanitiser factory, creating special drinks and organising online bar sessions for the craft beer community, Bethany impressed the judges with the contributions she has made as her boss and his company have navigated the global pandemic. 
"I am so honoured to be recognised alongside the best and brightest in the field," said Bethany. "SecsintheCity, alongside Tay Associates, has done a phenomenal job of elevating the visibility of the invaluable work carried out by EAs, PAs, Office Managers and the like. I'm really proud to represent this amazing group of talented people!" 
Legal PA of the Year – Tanya Jennings, PA to Piers Reynolds, Partner at Freshfields Bruckhaus Deringer 
This year's Legal PA of the Year is Tanya Jennings, PA to a Partner at global law firm Freshfields Bruckhaus Deringer. 
Nominated by five of her colleagues, Tanya has a reputation as an "unfailingly helpful" PA who "extends her support to many areas beyond the usual reach of the role." It was this breadth of responsibility which the judges recognised, including the uniquely 2020 challenge of completing an office move during a global pandemic. 
"To win is such an honour and feels beyond amazing," Tanya said. "I haven't stopped smiling since! However, what this award truly captures is the success and achievements of the entire Assistant population. By continuing to receive recognition in the form of awesome awards from the amazing SecsintheCity, we demonstrate how valuable the work that we all do is and how appreciated we all truly are." 
Office Manager of the Year – Sarah Kingdom, Office Manager, ghd  
The judges were highly impressed by the nomination submitted for Sarah by the Director of People at ghd, who described her invaluable efforts in the company's transition to working from home. 
"Sarah goes above and beyond, not only to provide exceptional office management for London but also to support our Cambridge and Leeds offices by mentoring our office managers there. She quickly picked up the role as COVID Response Team Coordinator and ensured all 300+ staff were set up to work from home safely." 
"It is a real privilege to have won and feels very special to have my work acknowledged within the industry," Sarah said. "It has given me a real confidence boost and more encouragement to continue self-development to come back even stronger next year." 
Outstanding Achievement – Gemma Hughes, PA to Chris Leader, Vice Principal of Salford City Academy 
This award is given by the judges to a nominee who is an unfaltering champion of the profession – someone who shows inspiring levels of commitment and support in their role.  
Taking the Outstanding Achievement Award this year was Gemma Hughes, PA to Chris Leader, the Vice Principal of Salford City Academy, who described Gemma as "a true inspiration to all staff and students in the Academy." 
"I feel really privileged to have won the Outstanding Achievement Award 2020. I love my job and have a great working relationship with the Vice Principal, whom I support on a daily basis," says Gemma. "It's a real pleasure to work at Salford City Academy. I have high expectations of myself and it's lovely to see that my hard work is really valued." 
Nominations for the SecsintheCity PA of the Year Awards 2021 will open next spring.  
SecsintheCity is the UK's only dedicated job site for PAs, EAs and business support professionals and is part of Reach Work, a portfolio of specialist job sites.