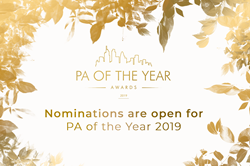 SecsintheCity – the only job board dedicated to PAs, EAs and Office Support Professionals – is searching for outstanding Legal PAs and EAs to be winners at the eighth annual PA of the Year Awards.
While an abundance of high calibre nominations has already been submitted for this year's event, we know a wealth of talent and achievement remains untapped. With limited time left to nominate yourself or a colleague, we want to hear from you today.
Your questions answered
Alongside event judge and Chief Executive of Tay Associates Susanna Tait, SecsintheCity recently answered some of the questions that are most frequently asked about the PA of the Year Awards.
What do you look for in a Legal PA, EA or Office Manager?
We seek those with a sincere passion for the profession – those who, regardless of the challenges and hurdles faced, genuinely love what they do.
How have previous winners stood apart from the crowd?
In a winner we look for those who have gone the extra mile to be an ambassador for the profession. For example, last year's Social Media PA of the Year, Craig Harris, was chosen in part due to his work establishing the LGBTQ+ Admin & Assistant network.
What can I expect from the interview?
There is no need to worry about the interview stage – just expect an informal chat with the judges about your career and achievements. Joyce Dadzie, Legal EA at Axiom and winner of the Outstanding Achievement Award last year, said that "it was such a calm process, referring to it as an interview just doesn't seem right."
What is the format of the awards evening?
Starting off with a champagne reception and networking opportunity, the awards then consist of a three-course meal followed by the main event – the awards ceremony itself.
Are there any financial obligations?
The PA of the Year Awards are free to nominate for and attend if invited – no tickets or costs are involved.
What are the prizes?
Prizes this year include a twelve-plate sharing menu and champagne at The Crazy Bear and a three-course meal with wine and cocktails at VIVI.
Who is invited to the event?
All shortlisted nominees – usually 15-20 people – and their managers are invited to the awards ceremony.
Are there any nomination restrictions?
PA of the Year Awards judge Susanna Tait says, "it doesn't matter where or for whom the individuals have worked, nor for how long. It's about the unique experiences encountered along the way." Unfortunately, the competition is currently only open to UK-based nominees.
Submit your nominations now
Nominations for the PA of the Year Awards 2019 close on Friday 13 September. If you would like to nominate yourself or a colleague for one of these significant career accolades, simply fill out this online form today.