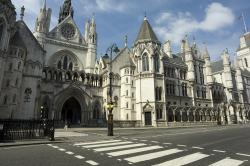 We have some good news – we are pleased to announce that the tour of the Royal Courts of Justice is resuming. Now that the Covid-19 restrictions have been fully lifted, the RCJ is accepting group tours again. This is a wonderful opportunity for our Students to see how the courts operate and to really put their studies into perspective. 
The tour dates are as follows:
Tuesday 7 June
Monday 4 July
Tuesday 2 August
You can book a place by visiting the Royal Courts of Justice page within the Student resources section of our online Student and Member area. The tours take place from 11am to 4pm and are led by our Patron, Amanda Hamilton. You will need to mention that you are an ILSPA Student and it is not possible to bring partners or family members along as there is a limited number of places available. 
Unfortunately, however, Amanda Hamilton is retiring from leading the tours after August. She has been running the Royal Courts of Justice tour for 17 years and has provided a great service to our Students. Amanda is the Chief Executive of the National Association of Licensed Paralegals and used to have her own Paralegal training company called AH Paralegal. She often took her own Students on the tour and kindly offered places to our Students as part of their studies. ILSPA has worked closely with NALP since its inception.
Not all is lost, though – if you don't get the chance to attend one of the tours with Amanda, you can book a tour through the Royal Courts of Justice directly. It provides tours a few times a month and the booking fee is £14. The following dates are available for May:
Friday 6 May
Tuesday 24 May
Thursday 26 May
We highly recommend visiting the Royal Courts of Justice whilst you are studying with us. Students have commented on how beneficial it has been to their studies as it has brought what they have learnt to life. It has given them an eye-opening experience as well as confidence.
If you have any questions, please do not hesitate to contact us at info@institutelegalsecretaries.com.