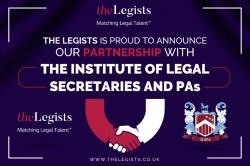 ILSPA is delighted to announce our new partnership with The Legists.
The Legists is a job platform dedicated to the legal profession, optimising the best innovative recruiting solutions to find the ideal employer or employee for you. Whether you're looking to advance your career, break into the industry or find your next employee, The Legists is a good place to make that happen.
The job platform advertises a broad range of roles from private practices (sole practitioners, boutique firms, City firms, national firms), international and US firms, in-house organisations, and the public sector. They host opportunities for a variety of legal positions including Paralegals, Clerks, Secretaries and all support staff.
The Legists aims to make legal recruitment simple, efficient and transparent. Finding the "right" firm or organisation can be challenging. Sourcing the "right" employee can be strenuous. The Legists have tailored their platform to benefit both candidates and recruiters. The user-friendly system provides maximum exposure to job listings and has unique technical functionalities. Smart technology is used to streamline the process by applying their sophisticated algorithm filters and features to Matching Legal Talent®.
Since its founding in 2017, The Legists has won various awards within their industry. Including 'Best Specialist Legal Platform 2020' by Acquisition International, 'Most Outstanding Specialist Jobs Platform 2021' by Global Business Insight Awards and 'Best AI Professional Platform London' by Corporate Vision 2021.
The Legists has many vacancies for Legal Secretaries, Legal PAs and legal support staff, so go and take a look. Whilst you are there, you can browse the Career Advice section for informative articles. You can also find roles from The Legists on ILSPA's Legal Secretary Jobs Board.