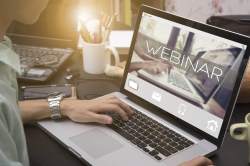 The Institute of Legal Secretaries and PAs is delighted to be offering new online webinar classes, which start on Tuesday 7 January 2020. Webinars have become a very popular form of learning due to the growth of virtual communication.
ILSPA now provides three study method options for our Legal Secretaries Diploma course. You can study through evening classes in London, online webinar classes or online via distance learning.
The beauty of our new option is that you can study our course from the comfort of your own home as well as being taught by one of our tutors. Our online webinar classes enable you to have an interactive experience, where you can communicate with your tutor and be part of a group of Students. It is a great blend of our evening classes and our distance learning courses.
Our online webinar classes are the perfect option for someone who is thinking about studying our distance learning course but doesn't want to miss out on having a tutor. It is also beneficial for those who are unable to attend the evening class as they live outside London or overseas. With the ability to login to our classes from wherever you are, you have access to a very beneficial and flexible form of study.
The classes will take place one evening a week from 6.30pm to 8.30pm, for 14 weeks. There will also be one lunchtime catch-up session each week, which will be arranged between the tutor and the Students you will be studying with. You will not have to physically attend as everything can be accessed online via a link. All you will need is a tablet, laptop or desktop computer.
ILSPA's Legal Secretaries Diploma course is equivalent to a Level 3 qualification. You will learn about the day-to-day tasks of a Legal Secretary, various areas of law, the legal profession and how the court system operates. The course also covers legal terminology, legal document production, how to complete legal forms and how to type professional correspondence. ILSPA's qualification is recognised by law firms and legal recruiters.
Whether you are a beginner and want to become a Legal Secretary, or you are an experienced Legal Secretary who wants to gain a formal qualification, our Legal Secretary course is suitable for you. We have a wide range of Students of all ages, many nationalities and varying levels of experience. 
This is an exclusive class with only 10 places available. If you would like to enrol, we recommend that you do so as soon as possible, as our Diploma course is very popular. Please note that we cannot accept transfers from Students who are already enrolled on our Legal Secretaries Diploma course.
For more information, please take a look at ILSPA's website here.