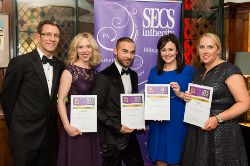 M&C Saatchi's Stuart Martin was announced as the winner of the 2014 PA of the Year Awards, hosted by SecsintheCity, the UK's #1 job site for PAs and Executive Assistants.
The announcement was made at a prestigious Awards ceremony, held at the The Ivy Restaurant on Thursday 6 November 2014.
The winners of the PA of the Year Awards 2014 are:
-    PA of the Year – Stuart Martin, M&C Saatchi
-    Social Networking PA of the Year – Katie McEwan, Ann Summers
-    Legal PA of the Year – Rachel Newman, Hogan Lovells International
-    Interim PA of the Year – Rowan Forman, Threadneedle Investments
Stuart Martin is PA to the Group Executive Creative Director at M&C Saatchi.  
Stuart said: "It's an absolute privilege to have won this award and have the opportunity to be representing male Personal Assistants that work in this industry. 
"In this day and age it is important to break boundaries and 'social norms', and I've been very fortunate in my career that people have encouraged me to push for roles that challenge the traditional secretarial stereotype. 
"I believe that my own success is based on doing whatever it takes to make my boss's day as seamless as possible."
The Awards were established 3 years ago to champion the professionalism of PAs and acknowledge their contribution to the organisations they work for. 
Geoff Curry, Managing Director of Trinity Mirror Digital Recruitment, said: 
"This year the calibre of finalists was exceptionally high, with PAs from Mercedes AMG Petronas Formula 1 Team, Royal Mail, Ann Summers and PwC.
"We look forward to following our winners continued success in the future."