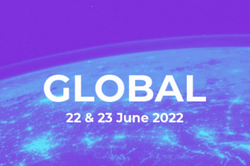 Join us for 48 hours of continuous personal development PLUS 1 month to access all the replays.
To become exceptional, you need to be trained by the exceptional, and we pride ourselves on bringing you the best of the best.
Our online ES Global event contains 48 hours of practical training, personal and career development, and a huge dose of inspiration from the world's top trainers for Administrative Professionals. We aim to not only improve your working life but to help you strive for bigger and better things every day.
We have over 50 speakers confirmed for this event. We will be releasing 5 new speaker announcements every week.
Register your place now and enjoy massive savings.
Please note:
Our magazine subscribers get preferential rates on all our events and training!
If you're not yet a subscriber, you can SUBSCRIBE HERE today.
Subscribers
£319
Non-Subscribers
£399
What you will receive
ES Global will present you with the most up-to-date thinking and training opportunities currently available in the market, delivered by the world's best trainers and thought leaders over an intensive 48 hours of continuous personal development. It will help you evaluate what changes you can make and how you can make a difference within your role and your organisation. You will leave with a revived purpose – equipped with the mindset, methodology and practical tools to gain the responsibility, progression and recognition you desire. You'll enjoy energised digital networking and camaraderie as part of the overall experience too.
Our pledge to you
We want to help you become the best version of yourself that you can be; that is our number-one objective for doing what we do, and how Global Live began nine years ago. We have helped thousands of Assistants grow and excel in their careers, and have been backed by Executives, CEOs and VPs from an array of companies, industries and sectors who now understand and respect the value and input that a top-flight Assistant provides. Ultimately, we will ensure that you learn, thrive and excel in your career.
Become part of the change
ES Global doesn't bring you the run-of-the-mill or the obvious. We continuously look for new ways to teach, enhance and future-proof your role. We have one of the largest global communities of Administrative Professionals in the world, ranging from Administrative Assistants to experienced thought leaders. Many of the community have continued to attend Global Live after their first time. They continue to attend the event each year because of the impact it has instilled and the difference it has made.
What to look forward to!
We never stop learning! You are probably reading this because you are an aspiring support leader passionate about your administrative role, looking to make a meaningful contribution to your organisation. Global Live is a highly anticipated online annual gathering for Professional Assistants. We bring like-minded peers together for two days of intense learning and digital networking, announcing emerging best practices and methodologies relevant to your role. LIVE Global is an annual conference you cannot afford to miss.
For more information and to register your place, visit https://executivesupportmedia.com/product/executive-support-global/.