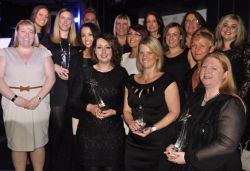 In front of an enthusiastic crowd of more than 200 attending the first national awards ceremony dedicated to legal services support staff, Angela Dyos from Clifford Chance was named 2012 Legal PA of the Year.
Angela, still a little dazed after receiving her award, said; I can't believe I have won. I have never done anything like this before. It has taken me out my comfort zone, as I have been with the same company for 18 years. It has been so rewarding.
The awards ceremony, organised by recruitment specialists Strictly Legal, took place at McQueen in London on Wednesday 14 November. Representatives from more than 30 law firms were eager to discover who, from the hundreds of entries received from across the UK, had won awards in the four categories.
Strictly Legal launched the awards back in April 2012 to recognise the vital role Legal PAs, Secretaries, Document Production Operators and Support Staff Managers play in the industry. The awards are the only scheme of this kind to be fully supported by the legal profession.
Paul Kelly, Director, Strictly Legal, said, We're delighted with the positive response there has been to the awards scheme and the support we've received from the legal industry as a whole. Several firms have already been in contact to see how they can be involved next year. We must also say a massive thank you to our sponsors who have supported the awards by donating some really attractive prizes.
Those sponsors include:
Reed & McKay
British Airways
The Institute of Legal Secretaries and PAs
Al Italia
Eurostar
The Corinthia Hotel
Sitting on the panel of judges were:
Danielle Thompson (DAC Beachcroft)
Tara Layman (Pinsent Masons)
Louise Harrington (Berwin Leighton Painser)
Dawn Turner (SJ Berwin)
The winners and finalists at this year's awards ceremony were:
Legal PA of the Year
Winner: Angela Dyos, Clifford Chance, London
Runner Up: Adele Cawthra, Addleshaw Goddard, Leeds
Other Finalists: Lisa Reader (Clifford Chance), Lesley Smith (Pinsent Masons), Rachel Reeves (Clifford Chance), Claire Evans (DLA Piper)
Up and Coming Legal PA of the Year
Winner: Rebecca Saville, Clarke Willmott, Bristol
Other Finalists: Bobbie Ross (Addleshaw Goodard), Maria Early (Shoosmiths), Charlotte Elliott (Clyde & Co)
Rebecca said, "It's nice to get some recognition for all the hard work I do. I have been shaking and crying like it's the Oscars!"
Secretarial/PA Manager of the Year
Winner: Lisa Holmes, DAC Beachcroft, Bristol
Other Finalists: Jenny Bright (Baker & McKenzie), Donna Emmings (Clyde & Co)
Lisa said, "Thank you to everyone – the judging panel, and Jeffery Ng for nominating me. Proud to be part of a great team and represent DAC Beachcroft."
Document Production Operator of the Year
Winner: Sandra Dipchan, Clifford Chance, London
Other Finalists: Denise Cooper (Linklaters), Susan Pearson (Clifford Chance)
Sandra said, "I am honoured to be the first winner of the DPO of the Year award, the responsibility for which lies in my manager, Carrie Keating's, faith in me. I want to thank the panel and the Strictly Legal team for giving DPO the opportunity to come out of the shadows finally and share the limelight for their contribution to excellent legal support.
Legal PA of the Year Awards 2013
Strictly Legal Managing Director David Molt said, "Huge congratulations to all the finalists on such an amazing achievement, beating off such intense competition. I would also like to say a massive 'thank you' to the many representatives from firms – not just from the Secretarial and HR departments, but in a lot of cases right up to boardroom level – who have shown real enthusiasm for these awards.
Due to the success of the awards, the Legal PA of the Year competition will return, bigger and better, in 2013. For more information on how you or your firm can be involved, please contact Paul Kelly at paul@strictly-legal.com / 0207 628 4000.
Strictly Legal looks forward to hosting the Legal PA of the Year Awards again in 2013.