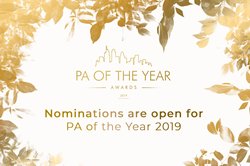 Nominations are now open for SecsintheCity's 8th annual PA of the Year Awards
SecsintheCity – the UK's only job board for PAs, EAs and Office Support Professionals – is looking for the most talented and dedicated PAs, EAs and Office Managers to be winners at their eighth annual PA of the Year Awards.
Sponsored by specialist PA recruitment consultancy Tay Associates, the PA of the Year Awards acknowledge and celebrate the business-critical support that Personal Assistants provide to the companies and individuals for whom they work.
Chief Executive of Tay Associates, Susanna Tait, reiterates that the awards were created "to champion the profession and acknowledge the significant contributions that PAs and EAs make to the organisations they work for."
These awards provide bosses with an excellent opportunity to recognise and praise the hard work their PAs put in behind the scenes, as well as giving PAs and EAs the opportunity to nominate themselves for one of these significant career accolades.
Nominations are open until 13th September 2019, when a panel of expert judges will shortlist nominees and invite them to interview before deciding the winners in three distinct categories:
PA of the Year
Legal PA of the Year
Office Manager of the Year
Additionally, the judges will choose the winner of an award that you cannot be nominated for: The Outstanding Achievement Award.
Why apply?
Winning one of SecsintheCity's PA of the Year Awards is the ultimate recognition of your hard work and talent.
Amy Franklyn, EA to the Head of Corporate at Bird & Bird LLP and winner of the Legal PA of the Year award in 2018, praised the interview process, stating that "the judges were so nice and genuinely interested in my role".
Of the ceremony itself, Amy said she felt special: "everybody took the time to speak to me and congratulate me on my nomination. It is always nice when somebody recognises your efforts."
And as Legal PAs, the ILSPA audience isn't restricted to just the one category: Last year's Outstanding Achievement Award, for example, was presented to Joyce Dadzie, Legal EA at Axiom.
How to apply
Nominations for the PA of the Year Awards 2019 are open now. If you would like to nominate yourself or a colleague, head over to SecsintheCity and fill out the online nomination form.
Winners will be announced at a glamorous ceremony held at The Ivy, London on Thursday 7th November 2019.