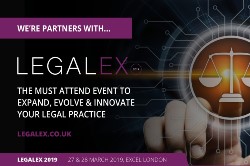 On 27 & 28 March, 2019, London's ExCeL will play host to the latest edition of Legalex. This industry-leading show will create Europe's most comprehensive and all-encompassing trade show package for legal professionals.
This year, the exhibition promises to be the most forward-thinking to date - housing 200 cutting-edge exhibitors and 150 educational seminars from some of the world's top legal experts and innovative thinkers. Leading the industry as the most accomplished event for forward-thinking, ambitious and successful legal firms looking to modernise their practice. LegalEx 2019, is one not to miss.
Designed to help the business behind the solicitor. If you're looking for the most effective ways to increase the profit of your legal practice, step up your marketing efforts, increase client retention, and increase your billable hours, then this is the must-attend event for you. 
We really hope you join us to discover the latest tools, products, services, resources and innovations that are changing the game in legal business growth and data security - here are our favourites so far:
Over 3,000 legal professionals will come together creating invaluable legal networking opportunities.
We can't wait to catch up with the Keynote Speakers' seminars from the likes of Michele DeStefano, Richard Tromans, Chris Bull and Itzik Amiel among others.
Following feedback from our last shows, we have introduced the New Legal Marketing Summit Theatre. It will address all the questions and queries about Legal Marketing.
There is so much more to announce over the coming weeks- so keep checking www.legalex.co.uk for updates and don't worry, your free ticket will always gain you access to it all.