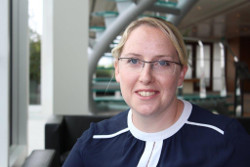 As announced in the July edition of DEDICATED – The Legal Secretary Journal, the nominations for the Secs in the City PA of the Year Awards 2015 are now open. One of the objectives of ILSPA is to ensure that Legal Secretaries and PAs receive the recognition that their skills and knowledge deserve. We thought that now would be the ideal opportunity to speak to the current Legal PA of the Year, Rachel Newman, and find out how she felt about winning the award last year, why she believes that recognition for Legal PAs is so important, and what tips she has for newer Legal PAs just starting their careers.
Please tell us a little about yourself and your role at Hogan Lovells
A little background about myself … I have been with Hogan Lovells for 15 years.  At the time I joined Hogan Lovells, I was the youngest PA employed by the firm.  My previous legal role was with British Steel (now Corus) where I worked for a Barrister and a Solicitor.  We instructed Hogan Lovells on many matters and the teams were always great to liaise with, and so they were a natural choice when applying for more challenging roles.  As well as working at Hogan Lovells, I am a mum of two.  My role at Hogan Lovells is very diverse and I always enjoy the variety of work each case brings. 
What did you do before you became a Legal PA?
Before becoming a Legal PA I worked for Ford Motor Company as a Junior PA while I was completing my Legal Secretarial course and AS in law.
What made you want to become a Legal PA?
I always wanted to work in the legal profession and with limited access to enable me to pursue further education in law, I could see from work experience that it was a great way to be involved.
How did you feel after winning the title of Legal PA of the Year 2014 at the Secs in the City PA Awards?
It felt great to win the award.  It had been a really challenging two years at work and so it was a great reward and recognition of my experience and hard work.
Why do you believe it is important to nominate people for awards such as this?
These awards are extremely important. Within the industry there are 'firm awards', 'global awards', etc. and associations for all other legal professionals but no one to stand out from the crowd and say 'PAs deserve a mention too'.
What advice would you give to new Legal PAs that are just beginning their careers?
To all those starting out, if you haven't already, then find a course to help you understand the basics of law.  Mine included an AS in law, which was a great foundation to add experience to.  When you interview for positions in firms, don't just let them ask all the questions, ask them what they offer too – what internal training they will provide, and other questions to ensure that they are the best fit for you.