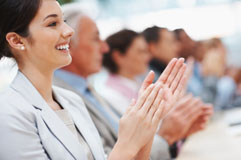 We are often pleased to see a high calibre of Students pass through our hands, but recently we were delighted to see two Students achieve distinctions for the Legal Secretaries Diploma course, both with results of 99%. Our Course Assessor, Maria Richards, said that they were the highest results she has seen.
These Students have shown complete commitment to their career and an exceedingly high aptitude for learning law and producing documents. They are sure to go far in their careers, and one of the Students, Helen Wheeler, has already managed to secure a fantastic new job. Helen says:
"I undertook the Legal Secretaries Diploma after having worked as a Legal Secretary for nearly 11 years. My reasons for undertaking the course were twofold. Firstly, I wanted a qualification to go with the experience I had acquired, and secondly, after being with the same firm for nearly nine years, I felt that I was in a bit of a rut and decided that it was time to move on. I hoped that by undertaking the course this would help me secure alternative employment by giving me an edge over other candidates. I am pleased to say that shortly after signing up for the course, and including on my CV that I was undertaking it, I secured a new job with a firm listed on the website as supporting the course.
Although I have 11 years' experience (which I am sure gave me a great head start) I still found the course extremely useful and enjoyable. I learnt about areas of the law that I am interested in pursuing in the future and also feel that I have a greater knowledge and understanding of the area of law I am currently working in.
I would recommend the course to anyone thinking of a career as a Legal Secretary or just starting out as a Legal Secretary, because it gives you good basic legal secretarial skills and knowledge of several key areas of the law. The fact that you can work through the distance learning course at your own pace and with no time limit is a bonus, because it enabled me to take several months away from the course when life got particularly busy and then pick it up again when I had more time. I wish I had undertaken it several years ago."