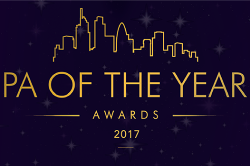 SecsintheCity, the UK's only specialist job site for PAs and EAs, has launched their annual PA of the Year Awards.
 
For the sixth year running, we're shining a light on PAs' critical contribution to business, showcasing the country's powerhouses of proactivity and professionalism.
Why Enter?
Scooping an award is the ultimate career accolade. So if you've earned a shot at the shortlist or know a PA who makes anything possible, it's payback time. 
There's a wealth of exclusive prizes on offer, and winners will be announced at a prestigious awards ceremony at London's The Ivy restaurant on Thursday, 9 November.
Last year, a former student and ILSPA member, Georgie Theobald, won the Legal PA of the Year Award. Georgie was Legal EA to the EMEA Trust & Safety Director and the Global Deputy Chief Privacy Officer at Facebook. She was nominated by a colleague who said, "She's the glue for her teams and is very protective of her Directors, making sure they're always on track." 
How to Apply
Take charge of your career with SecsintheCity's inspiring legal PA and EA opportunities or a well-deserved PA of the Year 2017 nomination. We'd love to hear from you. 
Don't miss this opportunity to transform your career.