I first 'discovered' the Internet on a trip to the US in 1995. I was an IT consultant for a group of lawyers, and I could immediately see the possibilities that the Internet offered the legal world. I soon set up my own website at www.venables.co.uk with information that I thought would be useful for UK lawyers. At that time, only a handful of firms of solicitors had a website and there was only one other independent legal site in the UK – Nick Holmes' infolaw (www.infolaw.co.uk). He and I met quite soon after this and agreed that the Internet was big enough for both of us, and we have been friends and colleagues (and occasionally rivals!) ever since.
The legal publishers were not really present on the web at that time; perhaps they rather hoped that the Internet would go away and leave them to print their learned books in peace! How different it all seems now.
Who is it for?
The first thing I realised was that a legal site really had to provide information separately, for several different types of viewers: lawyers, certainly, but also individuals with a legal problem, companies with legal questions to resolve and students studying the law. From the beginning, therefore, I maintained separate sections for these four groups, and I still do so (the part of my home page dedicated to individuals and to lawyers can be seen in the picture below).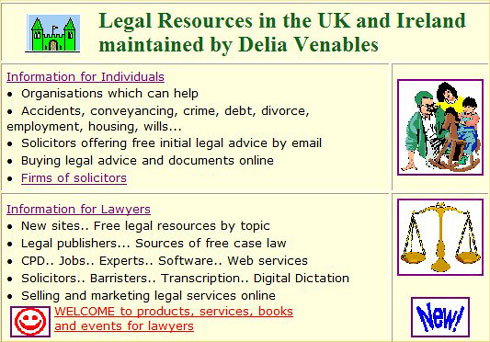 The intention of the site was to provide links to useful legal sites, with brief descriptions of these sites – really, a giant set of bookmarks and 'pointers' for the resources and services which lawyers might find useful. I am not a lawyer (I was trained in maths and IT), but I had been working with lawyers for 15 years and I could recognise a legal resource when I saw one. I was and still am careful, however, not to give the impression that I can provide legal advice myself. Instead I direct people with legal problems to the relevant part of the site and to the solicitors who provide legal resources relating to those topics on their site.
For lawyers
I started with just a few web pages but soon found that I needed to differentiate the information into clear categories; you can see the sections offered at www.venables.co.uk/lawyers.htm. From this section, the list of firms with web sites (www.venables.co.uk/firms.htm) has always been a popular area. Today there are now several thousand firms with web sites and indeed, any firm without a web site is now seriously behind. One reason that my own lists are popular is that you can browse the page of (for example) firms beginning with N; most other sources of UK information, including the Law Society's own directory site, require you to search for something in particular – a very different process.
One part of the sections related to firms' web sites is the particular page of firms offering to provide initial legal advice free of charge to individuals or companies, by email or phone at www.venables.co.uk/individx.htm. There are many people looking for free legal advice and searching with the words 'free legal advice'; the firms of solicitors who ask to be listed on this page have to balance the public service element of their efforts with their hope that real work will result. It is remarkable that around 200 solicitors' firms have asked to be put on this page, together with details of the areas of work in which they are prepared to provide this advice.
For individuals
Over the years, the sections for individuals (www.venables.co.uk/individuals.htm) have become very important, and I have set up a series of web pages under the heading 'Free Legal Information for Individuals Organised by Topics' (see the picture below for a small selection of these).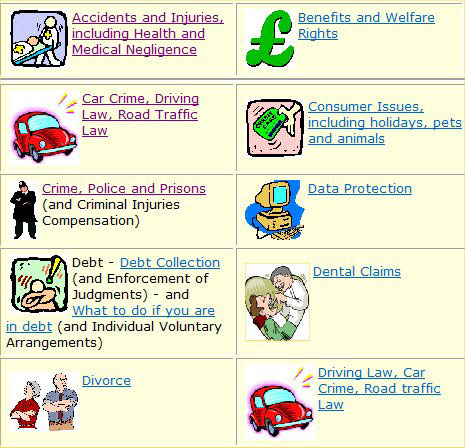 These sections provide a description of resources provided by solicitors in each legal area, and there are substantial legal resources provided by solicitors in this way.
Individuals are also directed, of course, to the lists of solicitors' firms with a website and to the page of firms willing to offer free initial advice, as well as to the pages for firms (and others) selling legal services directly from their website (see www.venables.co.uk/selling.htm for more on that topic).
There are also sections for companies and for students; these can be explored from the home page as above.
How the website relates to my other activities
In the early years, I maintained the site partly to raise my profile as an IT consultant for lawyers but partly also just because it was such fascinating work. There soon emerged another benefit from the site – to feature the 'Internet Newsletter for Lawyers', which provides information for lawyers about everything that is happening on legal Internet resources. The newsletter covers how the Internet presents the law, how it widens access to the law, legal aspects of e-commerce and websites, how lawyers use the Internet for communicating and for improving service to their clients, and how they use it to market themselves. I produced the newsletter on my own for 10 years, but I now produce and edit it jointly with Nick Holmes – so we've come full circle from our original contact in around 1996! You can see more about the newsletter on the infolaw site at www.infolaw.co.uk/newsletter.
Nick and I also produce various CPD courses about how lawyers are using the Internet; you can see these described at www.infolaw.co.uk/ebooks and the beginners' courses at www.venables.co.uk/training.htm.
And now...
About three years ago, I was asked whether I would carry some advertising on the site. Originally, it was definitely not acceptable to do this, but over the intervening years this practice has become normal, particularly with Google's dominance of the advertising scene. After a little thought, I came to the conclusion that I would carry advertising too, and I have to say that the income received from this has been very welcome. As a matter of interest, the online Legal Secretary Journal is currently advertising – see www.venables.co.uk/blogs.htm and www.venables.co.uk/jobs.htm!
Advertising revenue is also an incentive to keep updating the site and indeed to keep adding new facilities. My time is spread pretty evenly now between updating the website, editing the newsletter, and writing and updating the CPD courses.