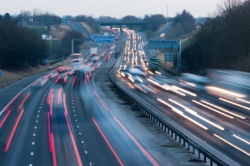 Recent news stories have been reporting on new fast track traffic offence courts that are to be set up soon. The courts will be set up in England and Wales. The aim of these traffic courts will be to hear minor traffic-related offences. The plans follow a pilot phase where such fast track motoring courts were set up in nine different areas across the country. So, why are these courts being set up? And will the new plans help to improve and expedite the justice system in general?
The plans to set up these new courts have come against a backdrop of majorly clogged courts in the UK – where magistrates are tied up with cases of all kinds and as a result the justice system is slow, inefficient and bogged down. A whopping 500,000 minor traffic-related cases go through the courts each year in England and Wales, and magistrates deal with them. Even though the driver admits guilt in over 90% of the cases, the sheer length of time needed for the case to proceed from offence to sentence means that many people do not even turn up for the hearing.
This means that magistrates are unable to focus on more serious cases that might require their attention, while they deal with cases that should be dealt with more simply and speedily.
According to the new plan, each police area will have its own traffic offence court by April of next year (2014). By having more effective first hearings and reducing the number of adjournments needed, more cases can be handled. The courts will be equipped to handle as many as 160 cases every day. They will employ specialist prosecutors trained to handle such cases in an efficient and speedy manner. The new courts will deal with cases related to minor traffic offences as well as driving licence and insurance-related cases. These include traffic light offences, speeding, uninsured vehicles, driving with excessive penalty points on the licence etc.
At the moment, all traffic-related cases are heard by magistrates – but once the new court system falls into place, they will handle cases where the drivers admit their guilt and where the matter can be dealt with simply. This means that the new courts will have jurisdiction over 90% of the cases wherein the driver admits fault. Cases where the charges are disputed will be passed on to a magistrates' court. As mentioned earlier, the courts will use specialist prosecutors trained to handle straightforward traffic offences quickly and efficiently.
The government hopes that the new system will ease the burden on magistrates' courts and free up magistrates to tackle more serious cases. At the same time, minor motoring offences will be dealt with swiftly and efficiently, and the time taken to hear these cases will reduce considerably. On average, a motoring offence can take up to six months to be heard and dealt with according to Justice Minister Damien Green. According to the Government, the plan to set up traffic courts and speed up traffic offence hearings is part of their wider plan to improve the criminal justice system in the UK.
The new fast track courts were trialled in nine police areas around the country, namely Essex, Hampshire, Kent, Suffolk, Metropolitan Police, Nottinghamshire, Norfolk, Lincolnshire and West Yorkshire. According to police authorities in charge of the pilot project, the courts have proved successful – not only have they sped up the process of hearing traffic-related cases, but they have also simplified the process and enabled local magistrates to plan their workload more efficiently.