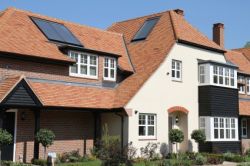 Last month we looked at the Green Deal. Another trend for renewable energy in homes is the installation of solar PV (photovoltaic) technology.
The Feed-In Tariff was launched in April 2010 and aimed to encourage Britons to install renewable energy systems. The tariff rewards the owners of green energy systems by paying them for the power they create. From 1 April 2012, the Feed-In Tariff available from the installation of solar panel arrays has been linked to energy efficiency ratings, and therefore homeowners are no longer automatically entitled to the highest tariff rates available. Although this may have had a negative impact on the number of people signing up for the program, PV technology has been included in the Government's list of approved energy-efficient measures for Green Deal qualification, and therefore it is forecast to deliver a welcome boost to the solar industry.
We discussed last month the Energy Performance Certificate (EPC) and the need for this to be put in place for a property to be marketed. In order for the homeowner to receive the highest Feed-In Tariff benefits, his or her property will have to achieve an EPC rating of D. The installation of a PV solar
panel array will ensure that compliance with this stipulation is met. It is hoped that these measures guarantee the solar sector a period of stability amid the current unpredictable economic conditions and provide UK householders with the best available energy-saving technology.
So what does this mean for a conveyancer?
Many homeowners cannot afford to buy their panels outright and have therefore signed up with various companies to rent their roofs in return for free electricity. In essence, a lease of the roof space is created for the term, usually around 25 years, and this lease is registered against the owner's legal title at HM Land Registry. It has since emerged that lenders have begun turning down mortgage applications of homeowners who signed up to these schemes. The reason? When a lease runs for 25 years, it would have to be passed on to any buyer. Lenders are concerned they will not be able to dispose of homes where a PV lease has been agreed by the previous owner. The leases run for 25 years, and so would have to be passed on to any buyer. Crucially, the lease would restrict a mortgage provider if it was forced to repossess, because the lease company will remove the panels only if the lender can show it has tried and failed to sell it.
For consumers who want to lease their roof space to firms installing solar panels, and indeed for solar panel providers offering this service to consumers, lenders are now reminding them to ensure that leases comply with the guidance of the Council of Mortgage Lenders (CML). The CML currently has 113 members and 86 associates, including banks, building societies and other mortgage lenders. The CML Lenders' Handbook provides comprehensive instructions for conveyancers acting on behalf of lenders in residential conveyancing transactions. There is a Lenders' Handbook for each legal jurisdiction in the UK.
The Lenders' Handbook is divided into three parts. Part 1 sets out the main instructions for all mortgages; Part 2 details each lender's specific requirements; and Part 3 is read in conjunction with Parts 1 and 2 where it applies. If a lender is not listed in the handbook, you should contact it directly for instructions. You can view or download the handbook from www.cml.org.uk. If you download this, be sure to check on a regular basis for any changes, as it is constantly being updated.
According to the CML, "Lenders support the principle of green energy initiatives, but want to ensure that solar panel leasing agreements do not adversely affect the value or marketability of the property." It is therefore important that a conveyancer instructed in the creation of a solar panel lease, or acting for a buyer where a property has an existing lease against it, ensures compliance with the CML's minimum requirements as set out in the Lenders' Handbook. This includes aspects such as the need for maintenance or repairs, and specific or additional requirements should not create a financial burden for either the lender or the borrower. It would be prudent, therefore, to involve a lender at an early stage in order to address any security or valuation issues before signing a lease agreement. If a property already has a mortgage against it, then the lender's consent to the new lease must be obtained before proceeding. The lender will also wish to ensure that installation is carried out to an accredited standard and that the panels are properly maintained, with fees for repairs or maintenance at no more than £60 per year. The lease must also state that the lender can have the panels removed without charge if the property is taken into possession during the period of the leasehold agreement and if the installation of panels is affecting attempts to sell the property or affecting its re-sale value.
As a Legal Secretary, when taking instructions from a client and providing conveyancing quotations, you can assist your fee earner by checking whether a property has solar panels. Most firms will charge an additional fee if there is a solar panel lease against the title.
Next month we will look at how to provide a conveyancing quotation and how to take instructions from a client.