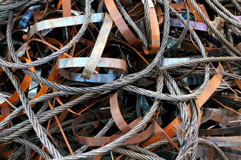 Considering that the current legislation regulating the scrap metal industry is contained in the Scrap Metals Dealers Act 1964, it is not difficult to imagine how this law has become flaccid and unfit for purpose in the twenty-first century. It is fair to say that when this statute was brought into law, there was nothing like as many thefts of metal across the country as there are today.

The price of scrap metal has soared in recent years, and this has fuelled a massive and frightening rise in scrap metal theft – frightening because thieves display a flagrant disregard for health and safety and have a propensity to target metal that, when missing, could potentially lead to serious injury and even death.

It is not unusual for these thieves to steal metal that is a part of the national rail network, and this is by far the biggest cause of concern. In my personal experience, thieves have stolen copper gas piping from outside my own property, although luckily enough, I had only just moved house when this theft was carried out. Still, it made me realise what a lucky escape this was for me and my family!

From church roofs to drain coverings – you name it, these criminals will attempt to steal it. They also tend to target war memorials, and this can be extremely upsetting for local communities who are looking to honour their heroes.

Of course, any type of theft can have serious consequences, but scrap metal theft specifically seems to hit victims harder, and the potential dangers involved can be so severe. As the current legislation is quite simply failing to have any effect on the scrap metal industry, and criminals are still able to sell their ill-gotten gains, new legislation is seen as long overdue.

The Chartered Institute of Environmental Health (CIEH) has put its weight behind the need for such new laws, and Graham Jones, MP, had his second reading of The Metal Theft Prevention Bill on 20 January 2012.

It is doubtful that anyone could argue with the fact that something very drastic needs to be done about this terrible problem, and as quickly as possible. It would appear that the main traders in scrap metal need to be watched extremely carefully in the future. Every transaction needs to be carefully documented, and regular inspections of their premises should be carried out. No one is saying that all such traders are involved in these unlawful trades; nevertheless, there is a contingency within the industry that is helping these criminals to gain from their theft, and this needs to be nipped in the bud.

It really is astonishing that this massive rise in a specific type of crime has been permitted to go unchecked for such a long time, especially when peoples' lives are being put at such tremendous risk. Let us hope that both houses pass this legislation as quickly as possible and that other political issues do not get in the way of such an important move forward in the law. Is this wishful thinking? Or for once in our legislative system, will something transpire for all the right reasons? Time will tell.