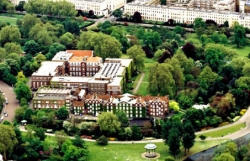 We have been running our Legal Secretaries Diploma course at Regent's College in Regent's Park for over 10 years and find it to be an excellent venue for our Students. The college recently became Regent's University, after it received confirmation from the Department for Business, Innovation and Skills that it met the criteria for a university title.
An intensive scrutiny process was led by the Quality Assurance Agency and the Higher Education Funding Council for England (HEFCE), which included a governance audit, a check on student numbers and a consultation on the proposed change in name.
It is a great honour to hold our courses at the University's conference centre, and we feel that the venue reflects the professional level of our company. Our tutors very much enjoy teaching the evening classes there and our Students can benefit from studying in a highly regarded and established learning environment as well as the beautiful surroundings of Regent's Park.
Regent's University is a registered charity whose mission is to deliver high-quality education and a commitment to reinvest in higher education. Professor Aldwyn Cooper, Vice Chancellor of Regent's University London, said:
"We are delighted that the Government recognises we meet the stringent criteria set down for university title.
"Becoming a university recognises the first class student experience we provide, the commitment of staff, the engagement of students and the success of our institution's alumni. It will help us in our charitable mission to deliver high quality education, and to fulfil our ambition to become the leading private non-profit university in Europe.
"As we expand, we remain committed to maintaining our excellent student-staff ratio and keeping tutorial style education at the heart of our offer to students."