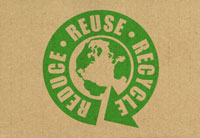 WWF's One Planet Future campaign encourages us to change our lifestyles and think about better ways to dispose of our waste.
In the UK, most of the waste we produce ends up decomposing in landfill sites, producing greenhouse gases and contributing to climate change. You can help cut climate change by finding ways of reducing, reusing and recycling your waste.
Reduce
Cut down – The best way to reduce waste is to buy less in the first place.
Avoid junk mail – Stop all that unwanted mail you receive, and therefore reduce unnecessary waste, by contacting the Mailing Preference Service. Visit www.mpsonline.org.uk to find out more.
Say no to over-packaged products – Avoid buying products that are covered in unnecessary amounts of packaging. Buy loose fruit and vegetables rather than pre-packaged.
Compost food waste – About a third of all kitchen and garden waste can be composted. It is very easy to build your own compost bin and use the compost to help your garden grow. For more information, visit www.homecomposting.org.uk. Alternatively you can buy a composting bin from the WWF online catalogue by visiting wwf.org.uk/shop.
Reuse
Shop smart – Try to buy products that are made out of recycled materials.
Carrier bags – Take reusable bags to do your weekly shop to avoid accumulating mounds of disposable ones.
Envelopes – By sticking labels over the address, you can reuse envelopes.
Batteries – Use rechargeable batteries rather than disposable ones.
Recycle
Recycle household items – Paper, plastic, metal, glass and fabric can all be recycled via home collection schemes, civic amenity centres and supermarket recycling facilities. To find your nearest recycling facility, visit www.recyclenow.com.
Recycle other items – The classified section of your local paper, classified websites such as www.freecycle.org, charity shops and car boot sales are all great places to buy and sell second-hand goods. Buying second-hand saves the planet's resources and saves you money.