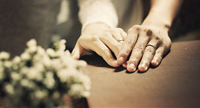 It is quite common when you hear the term "prenuptial agreement" to think of Hollywood celebrity couples embroiled in a bitter divorce suit. Hardly ever does this phrase conjure up the image of the ordinary man and woman in Britain battling for his 'n' her assets after a marriage breaks down – so why is this the case?
Well, the main reason is the fact that prenuptial agreements (also commonly known as premarital agreements) are largely dismissed by the courts and have little bearing on who "wins" the kids, the house or the dog. The law states that prenuptial agreements have absolutely no legal standing whatsoever and it is down to the judge's discretion in any divorce case in England (and in Wales) as to whether the agreement is upheld or not.
Many ordinary citizens and slightly wealthy people in the country may be nonchalant about prenuptial agreements. Indeed, it is estimated that one in three marriages currently ends in divorce, but the majority of them are settled without disputes and long-winded court cases. Even so, it is best to be aware that there is an increased chance of the tide turning in this area of English law.
As of this month (March 2010), judges in the Supreme Court are hearing about a landmark case that may just shift the balance in favour of prenuptial agreements being fully recognised on case-by-case merit in the English judicial system. A German paper industry heiress by the name of Katrin Radmacher married her French husband, Nicholas Granatino, in 1998. Radmacher is estimated to be worth £105 million, while her ex-husband was an investment banker earning around £120,000 per year. Before they married in London, Radmacher asked her husband-to-be to sign a prenuptial agreement that stated he would not request half of her fortune should they separate. Granatino signed the agreement and after eight years of marriage and the birth of two children the couple separated.
This case has been ongoing for over a year as Granatino asked for £10 million as a settlement for the divorce. He was awarded £5.6 million by the High Court, which was later reduced to £1 million after an appeal by Katrin Radmacher at the Court of Appeal. Mr Granatino maintains that he was not aware of how much his wife was actually worth, having signed the prenup without fully looking at the details, as he was marrying for love, not money. In his eyes he has been duped by his wealthy ex-wife and is seeking compensation, with the High Court initially agreeing that it was "manifestly unfair" to uphold the agreement, considering the amassed fortune that Katrin Radmacher has. From Radmacher's point of view, no more of her fortune should be passed to her estranged husband and the prenuptial agreement should be upheld. And so the battle continues, now in the hands of the Supreme Court to decide the outcome.
The decision that the Supreme Court makes in the case of Radmacher v. Granatino will evidently affect the Law Commission report that is being published in a few weeks time. It is strongly believed that if the judges allow the prenuptial agreement to stand in this landmark case, then it will be the recommendation of the Law Commission that a couple's agreement should have legal standing in future years.
Essentially, a decision in favour of Radmacher in this case could bring about a change in the law that means well-off couples will have to think long and hard about whether they wish to sign a prenuptial agreement before they get married!