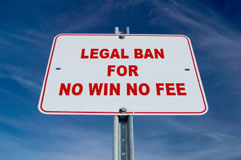 Following a review by the Lord Justice Jackson, which was commissioned by the previous Labour administration, Justice Secretary Kenneth Clarke has now announced that there will be a ban on what are known as 'success fees', where no-win, no-fee cases are concerned. This is in an effort to curb the 'sue and be sued' culture which many people believe is in operation in our society today.
Effectively, then, the ban on success fees will mean that the solicitor on the winning side will no longer be able to claim additional fees from the side that has lost the case. Instead, the solicitor will be entitled to claim only up to 25% of the resulting award of damages.
These changes to the law in no-win, no-fee cases may have a huge potential impact on poorer members of society. It is feared that the changes will dissuade many solicitors' firms from pursuing such cases in the future, as the potential reward for doing so would not be significant. This, in turn, would mean that the people living on the lowest incomes would be unable to afford access to justice, if and when they suffered any form of personal injury.
However, there is another, more sinister side to this argument. Many people believe that the previous law in no-win, no-fee cases actively encouraged people to bring spurious cases before the courts. Indeed, my own personal experience includes instances of disreputable firms attempting to contact me after I had reported a minor collision to my car insurance company. I can recall how sickened I felt over such bloodthirsty attempts to secure new business. Alas, many people see large pound signs before their eyes and end up falling for that proverbial pot of gold at the end of the rainbow.
Even when there may have been very little chance of success in a case, some firms still would have coerced the claimant into pursuing a personal injury claim. Often, even if the defendant knew he or she is in the right, the person may still have been forced into settling out of court, in an attempt to prevent unaffordable legal fees.
The NHS has proven to be one of the biggest victims of this no-win, no-fee mentality. Apparently, in 2008-2009 the NHS paid out some £456 million in legal costs alone (despite the fact that only £312 million was paid out in actual damages), much of which would have been as a result of such claims. Kenneth Clarke has recently stressed that the legal changes in no-win, no-fee cases could save the NHS around £50 million per year; money that we will all agree is far better spent in genuine areas of health provision.
Unfortunately, the massive industry that has sprung up to accommodate such no-win, no-fee cases really has tended to ruin things for people who have a legitimate need to rely on the legal system for damages. We can only hope that these changes force the disreputable service providers to crawl back under their stones and leave this area of law to the true professionals, whose sole intention is to pursue true justice.