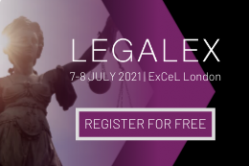 ILSPA has partnered up with LegalEx as it makes its much-anticipated return as a live event this year.
LegalEx 2021, taking place on July 7 & 8 at ExCeL London, is the must-attend event to meet industry thought leaders, regulators at the forefront of legislation and code of conduct changes, and experts in client success, technology and business development.
Your FREE registration gives you access to two days of educational seminars from some of the world's top legal experts, innovators and forward-thinking speakers. Criminal barrister and TV host Robert Rinder will be discussing why legal aid is in crisis and what we, the legal community, can do about it, while I. Stephanie Boyce, President of the Law Society, will be discussing diversity and inclusion within the legal sector and the role technology plays in terms of access to justice, digital engagement, mental health and the rule of law.