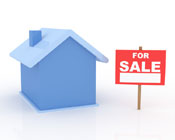 It may be fair to say that Home Information Packs (HIPs) have not exactly been the most popular move of our Labour government in recent years. In fact, many estate agents, who have been questioned about these, have stipulated that HIPs are of no real benefit to buyers at the moment. Furthermore, they are an additional expense that people looking to sell their home can ill afford as the country enters an increasingly deepening recession.
As of 6 April 2009, complex new rules came into force regarding HIPs, and these mainly tended to emphasise the fact that these packs were to be prepared at a much earlier stage than before. Previously, a property could be placed onto the market if a HIP had been merely ordered. However, from 6 April, the vast majority of relevant documentation was to be completed before sellers could be entitled to place a 'for sale' board in their front garden. Failure to comply with these new rules may well lead to a £200 fine, and it is thought that these penalties may well be quite widely enforced.
Included in this documentation is a seven-page document known as a Property Information Questionnaire (PIQ). The vast majority of people and organisations connected with this industry are opposed to this information, as they believe that the questionnaires have many flaws and allow for opportunities to provide misleading information. For example, persons filling out the questionnaire can simply enter 'don't know' for sections they believe may hinder the sale of their property in any way. Moreover, there is no requirement for the seller to actually sign this piece of documentation. Ultimately, this would mean that there is no way of verifying who has completed the information and of quantifying the level of accuracy.
It seems that apart from the government, the only organisation which believes that these new rules are a welcome move is the Association of Home Information Pack Providers. This body believes that these new rules will be of a definite benefit to potential buyers and will be able to provide them with the vital information that they need at the start of any sale to help them make more informed decisions on whether to continue or not. This, they believe, should lead to fewer buyers pulling out of sales further down the line.
Not so, says virtually every other estate agent and organisation connected with the housing market. The general consensus seems to be that potential buyers have very rarely even asked to view a HIP in the early stages of such a transaction. Many such organisations and the Conservative party all believe that Gordon Brown should exercise his emergency powers straight away and apply to have these new rules and HIPs suspended, at least for the time being, until the overall economy improves.
As more and more information is being requested from local authorities to complete these information packs, the cost of HIPs is also likely to increase quite substantially. This is because the authorities are entitled to apply a charge to the documentation that they are asked to provide. This, in itself, is yet another expense which may well discourage home owners from placing their property on the market at this time and it may transpire to be the final nail in the coffin for the housing market at the moment.