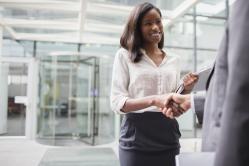 Here is a selection of vacancies from our Legal Secretary Jobs Board this month:
Legal Float PA - Penningtons Manches Cooper LLP
Location: London
Salary: Up to £38,000 depending on experience
Do you have two or more years' experience in Real Estate? If so, this might be the role for you! They are offering a full time, permanent, 37.5 hours per week Float PA position in our Real Estate Property team. This role is mainly remote with the potential to work from the office as and when required to do so.
The role of the Personal Assistant is to provide enhanced, proactive support to fee earners to enable them to operate efficiently. You will be expected to use a high degree of self-management and initiative and to maintain a high level of confidentiality.
View the full job description here:           
https://www.institutelegalsecretaries.com/jobs/candidate/job/235581/
Legal Assistant – Jeanette Miller Law
Location: Salford
Salary: £20-£25,000 per year
This is an exciting opportunity to join the UK's most prestigious firm of specialist driving offence solicitors; defending drivers nationwide for all UK criminal motoring offences; keeping drivers on the road! 
The successful candidate/s will be working within a small team from a shared inbox to provide comprehensive legal support to our Paralegals & Solicitors.
You are expected to have open communication with your colleagues and work as an integral part of the team to meet/exceed common firm goals. We work in an incredibly fast paced, high-pressured environment (we know we have already mentioned this but really cannot stress this enough) so it is extremely important that you respond to all of your emails throughout the day, understanding the sense of urgency associated with instructions received and prioritise accordingly.
View the full job description here:           
https://www.institutelegalsecretaries.com/jobs/candidate/job/235071/
Receptionist and Legal Secretary – Helen Gagan Solicitor
Location: Bognor Regis
Salary: Negotiable depending on experience
Helen Gagan Solicitor, sole practitioner, running a niche private client office situated in Felpham village, Bognor Regis practising in the drafting of Wills, Lasting Powers of Attorney and the administration  of estates on death requires a Legal Secretary to sit in the reception area of the office to meet and greet clients in the first instance.  The role is however very varied and will include the typing of Wills, Lasting Power of Attorney documents  and some Probate together with general administrative duties for the office.
View the full job description here:           
https://www.institutelegalsecretaries.com/jobs/candidate/job/233390/
Legal Secretary (Property) – Bracher Rawlins LLP
Location: London
Salary: Market rate
Experienced property secretary required for two friendly and approachable property partners. One deals primarily with property development and the other commercial leasehold matters.
The successful applicant will:
Be able to complete Land Registry applications, draft and submit SDLT forms, register charges at Companies House, assist with pre and post completion formalities including drafting bills and completion statements, checking bank details and sending monies, sending engrossments via email and in the post, use DocuSign to send out documents for signature, and arrange pre-contract searches, (as specified).
View the full job description here:           
https://www.institutelegalsecretaries.com/jobs/candidate/job/233054/
Junior Legal Secretary - Larbey Evans Ltd
Location: London
Salary: £30-31,000 per year
The client is a prestigious law firm based in the beating heart of the City – they are now looking to recruit a Junior Legal Secretary to join their thriving Dispute Resolution team to provide a polished support service to their Senior Partners and Fee Earners.
You will be working as part of the team to provide general secretarial and administration support. You will assist the team in providing fee earners with effective and high-quality assistance, enabling them to focus on providing the best legal services to clients.
You will ideally have Team Administrator / Team Assistant experience gained from a recognised law firm.
View the full job description here:           
https://www.institutelegalsecretaries.com/jobs/candidate/job/235576/
Search all Legal Secretary Jobs here: https://www.institutelegalsecretaries.com/recruitment/job/search/