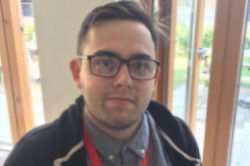 Craig Johnson is a LL.B Law Student, NALP Licensed Paralegal and Fellowship Member of the ILSPA. Craig is currently a Senior Paralegal at Court Assistance UK and has a BSB License to Instruct Counsel. 
After working as a Paralegal and completing NALP's Level 4 Diploma in Paralegal Studies, Craig decided to enrol on ILSPA's Legal Secretaries Diploma. He felt it was a good way to refresh his legal knowledge and expand his skills in areas he hadn't worked in before.
ILSPA was delighted to speak to Craig and hear how he found studying our Legal Secretary qualification as a Paralegal. He told us why he feels that ILSPA's Diploma is a fantastic refresher course for senior legal professionals, as well as those starting their legal careers.        
Tell us about your career so far. What do you currently do in the legal sector?
I have been a qualified Paralegal since 2018 and qualified with the National Association of Licensed Paralegals. I have worked within different sectors of law and originally started my legal career working for a small car company, handling aspects of contract law and company law.
I am currently a Paralegal who specialises in family law and small claims disputes and offer services directly to the public as an independent Paralegal. I was granted my NALP Licence to Practise in 2019 and started working freelance for clients.
You studied ILSPA's Legal Secretaries Diploma after completing your Paralegal qualifications. What made you want to study ILSPA's Diploma on top of your existing qualifications?
I have been a member of ILSPA since February 2019 after I completed my NALP Level 4 Diploma in Paralegal Studies. Since then, I have completed various courses to improve my work, however, I believe in requalifying from time to time to improve my skills. I decided to take ILSPA's Diploma so I could expand my knowledge and focus on areas of law I do not usually practise, like Conveyancing and Wills & Probate.
It is vital within the Legal Industry to keep up to date with your knowledge and keep in the loop with areas of law which you do not practise on a regular basis. I believe if you work independently or on a freelance basis you must try to continue to progress your career by achieving various qualifications to enable you to have a better practise experience. 
What do you feel are the benefits of the Legal Secretaries Diploma?
I have a diagnosis of dyslexia and some of the courses I have taken are not dyslexic friendly. However, ILSPA's Diploma has enabled me to understand concepts of law I have struggled with – for example, when completing certain applications for conveyancing, I have found it difficult to understand the different tasks the buyer's and seller's solicitors must complete. However, after completing ILSPA's Diploma I would now feel confident if I had to assist a Solicitor with a conveyancing transaction to complete specific tasks.
I feel the key benefit of ILSPA's Diploma is that it can be done within your own time frame and all the course materials are in a reader friendly way. Law terminology is often confusing, however, the course breaks down the terms and explains legal definitions in an easy way, which assists you in completing tasks.
It is important to note the huge benefit is that most employers I speak to recognise ILSPA's Diploma for Legal Secretaries and a lot of lawyers I speak to have always recommended hiring ILSPA Graduates.
How have you used the Legal Secretaries Diploma in your work?
Within family law I deal with a lot of divorce applications for Decree Nisi and Decree Absolute. ILSPA's Diploma identified key factors when drafting family law documents and court applications which I complete in my everyday professional life. Within the Civil Litigation unit, all pre-action protocols and application drafting were accurate and increased my knowledge within this area of law.
As well as this, the units covered the legal aspects of drafting and the key factors to consider. I believe ILSPA's Diploma, from a practical sense, is accurate and mostly key to producing legally ready documents. It is important to also note a lot of courses do not include the drafting element of applications or preparing documents on behalf of clients or recording instructions which is a fundamental part of a Legal Secretary and Paralegal job.
Would you recommend the Legal Secretaries Diploma as a refresher course for other legal professionals?
If you are a Barrister, Solicitor, Chartered Legal Executive, Paralegal, Legal Secretary or a Student you should enrol on this course. The course is a brilliant way to perfect your skills within areas of law you practise and to refresh your knowledge for areas of law you do not practise that often. It is from personal experience that I believe the ILSPA course can be used as CPD to continue your professional growth. This refresher is more than simply going over the same old, you are able to restudy to know you are competent within various areas of law and to refresh the basic knowledge you might have forgotten.
Craig Johnson A.NALP, FILS
NALP Qualified Paralegal – Associate/Licence to Practice Member
ILSPA Qualified Legal Secretary – Fellowship Member