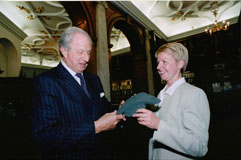 For three years, only two companies were approved by Her Majesty's Courts and Tribunals Service to carry out telephone hearings. In April 2011 the conference call company Kidatu Ltd. received its approval and now offers free telephone hearings for pro bono cases. Finance Director Paul Thompson said: "Our values are very important to us. We're delighted to be able to contribute in such a tangible and meaningful way, and once a fee earner has tried our service, they're happy to use us for non pro bono work."
Lord Woolf enshrined the concept of telephone hearings in his Access to Justice reforms of 1999, releasing fee earners from the drudgery of travelling to court for short pre-hearings. Co-founder of Kidatu Helen Roberts, working at BT Conferencing at the time, seized the opportunity and worked with Judges, Court staff and solicitors to ensure that the new procedures were seamless. Helen moved on to InterCall and launched LegalConnect, again offering telephone hearings and the full suite of conferencing services to law firms and other corporates. In 2009 Helen decided to create a conference call company with the aim of supporting charities wherever possible, and Kidatu was born.
When the Civil Procedure Rules were first published, fee earners had to request a telephone hearing; however, in 2007 the Rules were changed, and now all allocation hearings, listing hearings, case management hearings and interim applications with a time estimate of no more than one hour must take place by telephone. You can request that any other application take place by telephone, with the consent of all the parties and the agreement of the Court. Telephone hearings must follow a defined course: the applicant or claimant's legal representative is normally called by the provider first, followed by the other side, and finally the Judge. The hearing must be recorded using two separate devices and the recording stored by the conference call provider for three years.
When you receive the order from the Court, it will stipulate that a hearing is to take place by telephone. Booking is easy via phone or via Kidatu's online booking form; no pre-registration is necessary. If you're unfamiliar with the process, staff at Kidatu are happy to explain everything to you; just call 0800 279 4595. All information is available on Kidatu's website at www.kidatu.co.uk, including a link to the Justice website and the relevant Practice Direction.