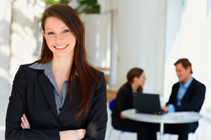 Continuing Professional Development is a continuing learning process that helps members of professional organisations maintain and advance their professional knowledge and skills. Our CPD programme is designed to improve the quality of our Members' work as well as support and recognise their career progression.
One of the Institute's aims is to provide our Members with professional recognition for the quality of their qualifications, standards, skills and expertise, so we actively encourage professional development through our CPD programme and our online journal. We feel that it is important for legal secretaries and PAs to develop their role in order to ensure their success and that of their firms.
The Law Society of England and Wales made CPD compulsory for solicitors in 1985. Solicitors are required to undertake a minimum of 16 hours of CPD a year, and they also are encouraged to take responsibility for their own development. According to legal publishers Sweet and Maxwell, eight new laws were passed each day in 2008, so as well as the many other skills they should maintain, they need to keep on top of legal developments. Although it is not compulsory for our Members to undertake CPD, we feel that it is very beneficial for your career and your firm.
Benefits of Continuing Professional Development
Displaying greater level of competence
Becoming more efficient
Gaining a better understanding of your role
Showing your employers that you are dedicated to your career
Creating opportunity for career advancement or promotion
Some law firms help their legal secretaries by providing opportunities for Continuing Professional Development in the workplace. This can be done by way of courses, workshops or seminars—usually provided in-house—in any area relating to your career. Many different areas of training can be provided. In terms of personal development, courses may focus on assertiveness, time management or communication skills. Courses in secretarial skills may teach dictation, proofreading and any other areas that you may need to improve on.
Examples of CPD
Studying a course (either regular attendance or distance learning)
Attending a training programme or seminar (in-house or otherwise)
Writing an article for our journal or for a law, secretarial or PA-related magazine
Self-study, such as reading books relevant to your career
Members of the Institute are encouraged to pursue Continuing Professional Development, and their efforts are rewarded with a CPD Certificate. They must show that they have undertaken at least 12 hours of CPD relating to their career in the past year. The programme embraces different forms of development through which Members can advance their skills.
Continuing Professional Development Plan
Make a list of all the areas in which you need to be competent at work.
Write down any skills you would like to acquire to advance your role.
Look at your development needs in the areas in which you may be lacking or need improving.
Think about your ambitions and goals and the time period in which you want to achieve them.
List your CPD priorities for the upcoming year.
Take action in order to achieve your professional development needs.
If you would like to apply for CPD recognition, please contact us.