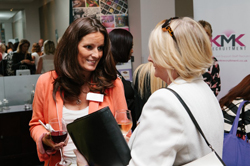 SecsintheCity, the UK's #1 job site for PAs and EAs, hosted their first Summer Networking Event last Thursday 9th June at the Crowne Plaza Hotel, London - The City. 
The Summer Networking Event provided 70 PAs with an opportunity for peer-to-peer networking over wine and canapés, as well as the chance to sample an array of food, beauty, health and lifestyle products from some of the best brands in the corporate sector.
Sponsored by secretarial recruitment specialists KMK Recruitment, the evening was host to a variety of pop-up boutiques, including:
•    Hemingway Tailors
•    The Headshot Guy
•    Return to Glory
•    Moores of London
•    Little Ondine
•    Chococo
The exclusive event also offered attendees one-to-one CV and career advice, as well as a training workshop from Mark Doyle — co-founder of The Method — who tackled 'Handling difficult situations in the workplace', which included practical activity scenarios.
Keynote speaker Mark Doyle of The Method said, "I was really excited to be speaking at SecsintheCity's Summer Networking Event last night and really enjoyed sharing our innovative approach for tackling the difficult moments and challenges that PAs and EAs face on a daily basis."
Look out for more exciting events from SecsintheCity in 2016:
http://www.secsinthecity.co.uk
SecsintheCity is the UK's #1 job site for PAs, EAs and Secretaries throughout their career.
SecsintheCity is part of Trinity Mirror Digital Recruitment.