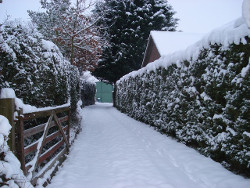 Spring is officially upon us, and we can therefore reflect on how the winter has affected legal services to clients. Winter is the most common time for personal injury accidents to happen due to ice and snow. The first question on some people's mind would be 'Whom can I sue?' Whilst a civil litigation personal injury claim may be considered, one must not forget that there are also other aspects of private law which could be considered, including Occupiers' Liability.
Unfortunately Britain is not always equipped to deal with adverse weather conditions. The weather is down to 'Mother Nature', and when weather warnings are put in place stating 'Only go out when necessary', they should be adhered to and it is up to the individual to decide whether to take the risk. Therefore, in many cases, any injury you incur will not be claimable as it is simply an accident.
There is also the question as to whether all pathways and roads should be gritted to avoid such accidents, and if they are not, whether the local authority then has breached a duty of care. In answer to this, the councils are not duty bound to salt and grit any roads. The major roads, including motorways and some A roads, are gritted to ensure the delivery of food supplies, fuel and other essentials. Other areas are gritted only as a matter of courtesy if there is enough salt to spare. Surprisingly, bus routes do not have to be gritted.
It is not just the local authority who can be considered. Occupiers' liability concerns the liability of an 'occupier' of land or premises for the injury, loss or damage to property suffered by claimants while on the occupier's premises. 
Occupiers' Liability is a fairly recent tort and is found in two statutes: 
1.    The Occupiers' Liability Act 1957, which is concerned with the duty of care owed to all lawful visitors; and 
2.    The Occupiers' Liability Act 1984, which is concerned with the duty owed to people other than lawful visitors, the major group here being trespassers. 
By s1(2) OLA 1957, the classes of people to whom the occupier owes a duty remain as they were under the common law. These are called 'visitors' and include the following: 
•    Invitees – These are people who not only have permission to enter, but whose entry is in the material interest of the occupier, e.g. friends making a social call or people invited onto land to give a quote for work. 
•    Licensees – These are people whose entry is to the material interest of the occupier, e.g. customers. They can include anyone with permission to be on the premises for whatever purposes. 
An implied licence can also be created in the following situations: 
•    Those entering under a contractual agreement which could occur in one of two situations: 
   -    Where the person has a direct contract with the occupier, e.g. a painter, plumber, etc. 
   -    Where the person entering has a contract with a third party, e.g. a sub-contractor. In this case they act as a licensee. 
•    Those not requiring any permission to enter because of a legal right to enter, e.g. meter readers, police officers in execution of a warrant. 
The extent of the duty of care to such lawful visitors is set out in s2(1) OLA 1957 which states that "an occupier owes the same duty, the common duty of care, to all his visitors except insofar as he is free to do and does extend, restrict, modify or exclude his duty to any visitors by agreement or otherwise." The 1957 Act imposes no duty of care towards trespassers. A more limited duty is owed to trespassers under the Occupiers' Liability Act 1984. 
If a shop or business opens to members of the public during adverse weather conditions, they have a duty to ensure that the environment is safe to both their employees and visitors. If they do not do so, they could face a claim under the Occupiers' Liability Act 1957. Therefore, if you slipped in a car park, on a footpath, at an entrance, etc. which had not been freed of ice, then you could have a potential claim. This would also include hospitals and other public services. 
It must not be overlooked that as a private person you also owe a duty of care to visitors upon your property such as, for example, the postman, the milkman, delivery drivers, and even friends and relatives. If you fail to sufficiently clear your own path and driveway from ice and snow, then you could open yourself up to a potential claim, also under the Occupiers' Liability Act 1957. It should also be noted that if you do attempt to clear parts of the road near your home but have not done this properly, you could be making the area worse and increasing the risk of a claim against you.
Students studying ILSPA's Legal Secretaries Diploma course will come across this area of law in our Tort unit. Studying the course is not only beneficial for securing employment as a Legal Secretary, but for also learning how law affects our everyday lives.