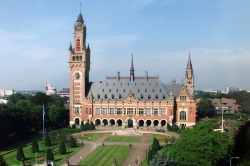 A story that may have caught your attention this year is that the United Kingdom does not currently have a judge sitting in the International Court of Justice. This is the first time this has happened in the court's 71-year history, so many have considered it a bit of a momentous occasion.
The International Court of Justice, being separate from our criminal and civil court hierarchy, is often largely overlooked, even by those working within the legal system.
Here is a brief outline of the Court to widen your knowledge.
What exactly is the International Court of Justice?
The International Court of Justice, also known as the World Court, sits in The Hague, in the Netherlands, and hears cases from sovereign states around the world regarding land and border disputes. It was conceived in 1945 by what was known as the United Nations (UN) Charter and began work in 1946. At that time, five countries from around the world were established as permanent members: the United Kingdom, the United States of America, France, Russia and China.
There are a total of 15 judges sitting in the Court, and every three years, five judges are re-elected – meaning that there is a complete cycle every nine years. Successful candidates must be elected by both the UN Security Council and the UN General Assembly.
What is their jurisdiction?
All 193 UN member states are automatically parties to the Court's statute as it is the principal judiciary organ of the United Nations. Non-UN members may also become parties under the Article 93(2) procedure of the UN charter, and therefore submit to the Ccourt's ruling.
The International Court of Justice has jurisdiction in two types of cases: firstly, contentious cases concerning a dispute between states, in which the court produces binding rulings; and secondly, advisory opinions, which provide reasoned but non-binding rulings on questions of international law. Advisory opinions do not have to concern particular controversies between states, though they often do.
If this article has sparked your interest in the International Court of Justice, you can find out further information about the Court, their cases and judgments at http://www.icj-cij.org/.