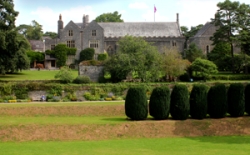 ILSPA's head office is now based in the heart of Devon within the beautiful grounds of Dartington Hall Estate. We have had the opportunity to expand to a fantastic office suite in a setting which is inspiring and peaceful. It is very much a contrast to the busy London environment we operated from previously, but we feel that it is a positive move which has encouraged productivity and motivation within the company.
Several members of the ILSPA team have moved to the Devon area, and we are very excited about what the future holds. We are already coming up with excellent ideas about how we could provide intensive Legal Secretaries Diploma training courses here, where Students would be able to stay in the wonderful hotel-style rooms within Dartington Hall Estate and enjoy the surroundings whilst studying.
Our tutors are still based in London, and our Legal Secretaries Diploma course will continue to be taught at Regent's University in Regent's Park. There is no change to business except our address, and we will continue to operate as normal, albeit in a far more inspiring and peaceful environment!
All Students and Members have received official notification of our change of address by email. Our new address is:
The Institute of Legal Secretaries and PAs, Blackers, Park Road, Dartington Hall, Totnes, Devon, TQ9 6EQ
Our telephone numbers and email addresses remain the same.
You are more than welcome to come and visit us if you would like to talk to someone about your studies or your career.